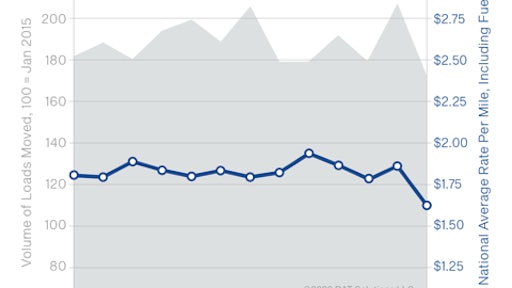 DAT
Truckload freight volumes plummeted in April and appeared to bottom out with much of the economy still shut down due to the coronavirus pandemic, said DAT Solutions, which operates the industry's largest online marketplace for spot truckload freight.
The DAT Truckload Volume Index, a measure of dry van, refrigerated ("reefer") and flatbed loads moved by truckload carriers, fell 19 percent from March and 8 percent from April 2019.
"With so many businesses closed or operating at low capacity, truckload shipments have plunged, which put spot rates in dangerously low territory for owner-operators and small carriers," said Ken Adamo, Chief of Analytics at DAT. "Some carriers parked their trucks to wait for better business conditions, but there's still lots of available capacity as a result of the low volumes, which has kept rates down."
The April load-to-truck ratio for vans was 1.0 nationally, the lowest since February 2016. For three weeks in April the ratio was less than 1.0, meaning there were more trucks than freight posted on the DAT network. Van spot rates averaged $1.63 per mile nationally, down 23 cents compared to March and 17 cents lower versus April 2019.
Spot reefer volumes were weak but ended April on an upward trend as fruit and vegetable harvests started to get under way. The reefer load-to-truck ratio was 1.7 in April compared to 5.6 loads per truck in March, matching at all-time low in April 2017. The national average reefer spot rate was $1.92 per mile, down 25 cents compared to March and 23 cents lower year over year.
Spot market van volumes fell 5 percent in April compared to March, and at $1.63 per mile, the national average van spot rate was down 23 cents from the previous month.
A drastic reduction in manufacturing, oilfield activity and construction contributed to a deep decrease in the national load-to-truck ratio for flatbeds, down from 21.8 in March to just 5.3 last month, an all-time low. The national average flatbed spot rate was $1.93 per mile, 26 cents less than March and the lowest since January 2017.
DAT Freight Outlook
Forecasts indicate that April was the bottom for the spot market. Ratecast and Market Conditions Index—predictive metrics from DAT iQ—anticipate higher prices and volumes as states relax their stay-at-home orders, produce season begins and port markets like Los Angeles, Houston, Savannah, Ga. and Elizabeth, N.J., see more traffic.
"Carriers will not be able to sustain operations very long at current levels," Adamo said. "Spring produce shipping should offer some relief and put some needed upward pressure on prices in May."