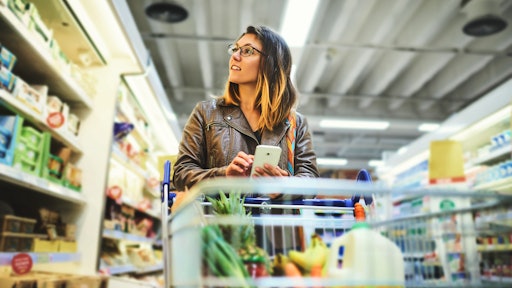 Getty Images
The Coronavirus disease (COVID-19) crisis has changed the way consumers shop and purchase food products. With restaurants closed to sit-down service and providing only delivery or takeout, customers have turned to retailers and grocers to fill in the gap for their food consumption needs. For those selling through online and retail channels, for example, business has been booming, according to Hilco Valuation Services. Businesses selling through foodservice, however, are experiencing quite a different reality in the current environment. Here's a breakdown by sector:
Food retail
For retail, the boom started in mid-February in the United States, as awareness of the Coronavirus began to heighten among the general public. Retailers were not prepared for the increase in volume, and had inventory levels consistent with norms of approximately two weeks' supply on average (less for fresh produce). While much of this increase can be attributed to stockpiling, it also attributes to more Americans eating multiple meals in the average home. Parents are also now working from home, and children attending school remote from home. Near-term risks to retail food operators resulting from the current crisis include: 1) further increased demand that cannot be met for pickup or delivered products; 2) increased reported cases of COVID-19 among employees or shoppers at retail locations, which would require store closures and/or would reduce consumer traffic significantly at those locations; and 3) employee shortages due to mass infection or sickouts that, even with the increased hiring by retailers, pose additional challenges for an already stressed system.
Foodservice
Prior to COVID-19, U.S. foodservice was a $280 billion industry, employing some 350,000 workers. The question is, what will it look like when the fallout from this pandemic has ended? Even the largest foodservice companies have experienced massive sales reductions since the start of the crisis due to closures. The situation has become so significant that Mark Allen, president of the International Foodservice Distributors Association (IFDA) wrote to President Trump stating, "COVID-19's economic impact on the foodservice distribution industry is dire and requires immediate attention from the Trump Administration." Beyond fulfilling the needs of hospitals and eldercare facilities, many foodservice distributors are pivoting to support the retail market via their relationships. These efforts are being fostered through partnerships between IFDA and the Food Marketing Institute (FMI) designed to supply extra product and transportation.
Producers, packaging
and distribution
Across the supply chain, those in the food industry are facing significant challenges. For food producers, these include the acquisition of materials as well as the personnel to produce, package and distribute products. However, the dairy industry is one of the most negatively impacted, as the products are highly perishable and cannot be frozen or stored for long periods of time. In a press conference on April 15, U.S. Agricultural Secretary Sonny Perdue cited the efforts of critical, essential food supply workers, including farmers, producers, processors, truckers and grocery store workers in providing food to American families, referring to them as true patriotic heroes.
"The bare store shelves that you may see in some cities in the country are a demand issue, not a supply issue," he says. "Our supply chain is sophisticated, efficient, integrated, and synchronized, and it's taken us a few days to relocate the misalignment between institutional settings and grocery settings. But, that does not mean that we don't have enough food in this country to feed the American people."
Supply

chain ramifications
Inventory. With warehouse closures, related furloughs and significant quantities of perishable inventory on hand, it's expected to see product with expiration dates in the next 6-12 months make their way to the market via secondary players that specialize in selling distressed food products.
Shipping. Most imported food is carried via container ships, and imports from China into the Ports of Los Angeles and Long Beach have declined approximately 20%. Shipping issues are most impactful to product with a short shelf life (e.g., fresh produce).
Labor. Labor shortages could disrupt supply chains for planting and harvest seasons. Common crops that require little manual interaction (e.g., wheat and rice) should present fewer challenges. However, those crops that require a higher degree of manual labor (e.g., apples or strawberries) could experience difficulties. Trained labor could be difficult to hire due to travel disruptions, and social distancing could decrease efficiency and increase costs. Further down the road, a lack of farm maintenance due to a diminished and insufficient workforce could create losses in future seasons.
Outlook
While the food industry is certainly not alone in facing significant current and future challenges as a result of the COVID-19 crisis, vast fluctuations in supply and demand in the industry are likely to lead to further price instability and sell-through issues. This will have an impact on food products downstream, which, in turn, could drive recovery values.