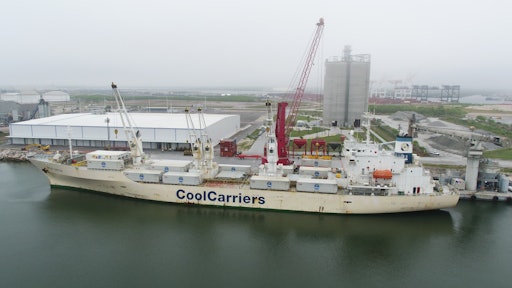 Port Logistics Refrigerated Services (PLRS), Port Tampa Bay's newest tenant and the operator of a new state-of-the-art cold storage facility, confirmed that it received its first shipment of perishable products.  More than 3,900 pallets of bananas from Ecuador were delivered from the ship MV Wild Lotus and were unloaded at Berth 219 adjacent to the new PLRS 135,000 square foot refrigerated warehouse.
"This is an important milestone for Port Tampa Bay and our strategic partnership with Port Logistics Refrigerated Services by offering a new cold supply chain solution to customers in Florida, the Southeast and beyond. It enables us to provide significant savings in their truck delivery costs," stated Port Tampa Bay CEO Paul Anderson.  
"Chiquita is very pleased with this first shipment of bananas through Port Tampa Bay as a new entry Port for the distribution of our fresh fruit into the Continental US market," stated Manrique Bermudez, Logistics Director for Chiquita Brands International. "We appreciate the cooperation provided by all government agencies, including USCBP, USDA, US Coast Guard, Port Tampa Bay and PLRS to make this first shipment a success."
"Port Logistics Refrigerated Services is proud of its ability to handle the first delivery of bananas through the Port in almost two decades. Our brand new refrigerated terminal efficiently handled the transfer of the 3,900 pallets of bananas. I expect this will be the first of a long line of diverse frozen and refrigerated food products to move through our terminal with destinations to central Florida and the southeast U.S. It also validates the public-private partnership in bringing this terminal to reality," Richard Corbett financer the PLRS terminal said.
"We are honored that Chiquita has entrusted us with this first shipment.  This is an important first step in our efforts to demonstrate how Port Tampa Bay can now provide one of the most efficient gateways for produce and perishables in the region," Port Tampa Bay's Chief Commercial Officer Raul Alfonso added.  
Completed last fall, the Port Logistics Refrigerated Services state of the art cold storage facility includes 102 reefer plugs, 6348 racked pallet positions, on-site dedicated fumigation facilities, CBP and USDA inspection areas and a lab, all on deep water.  It is the only facility of its kind in Florida's largest and fastest growing region – Central Florida and the I-4 corridor.