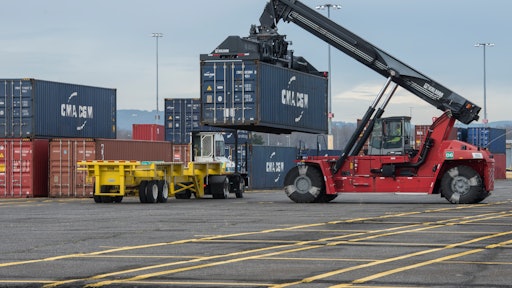 The Port of Portland has worked to create another new option for moving container freight by way of a railway partnership at Terminal 6. Starting this week, shippers can move their product on a rail shuttle to the Puget Sound ports. The new service, in partnership with BNSF Railway, will move containers between Portland and Seattle/Tacoma, where goods can be loaded onto ocean carriers. The rail service will operate five days a week.
The announcement follows news that Swire Shipping will begin a monthly container call at Terminal 6 this month, offering regional shippers a new opportunity to move their goods overseas.
"The rail service will complement the monthly container ship call by giving our local shippers another path to market," said Curtis Robinhold, Port of Portland executive director. "We hope to continue building on this momentum and interest at Terminal 6."
The port has also hired a consultant team to help determine the future role of container shipping in Portland with a sustainable business model for managing and developing the terminal.
The port engaged an industry leader committee comprised of 22 members with diverse representation, including exporters, importers, service providers, carriers, ports, labor (IBEW and ILWU) and legislators with strong shipper interests. The port, consultant team and committee will report their findings to the Port Commission this month.
Companies in this article