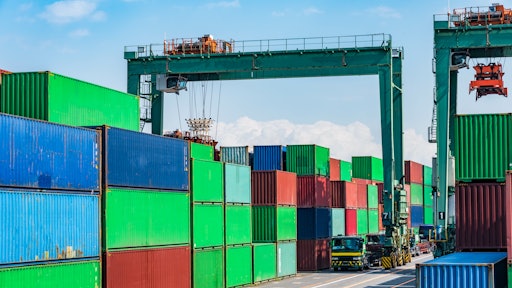 hit1912 AdobeStock_144569221.
The global shipping industry is currently grappling with a complex challenge that revolves around a crucial element – shipping containers. The real issue at hand is not the geographical concentration of container production but rather the efficient positioning of the global container pool.
And, 54% of container logistics professionals do not believe that shifting container production away from China would improve the supply chain, according to Container xChange's recent survey.
"In the global trade landscape, it's not where containers are produced that matters but rather where they are repositioned at the right place and the right time. This challenge is further exacerbated by factors such as supply chain disruptions, labor strikes, COVID-19, and the unforgettable incident in the Suez Canal," says Christian Roeloffs, co-founder and CEO, Container xChange.
Key takeaways:
51% of respondents anticipated that such a transition could result in increased costs in the shipping industry, indicating a strong concern about the financial aspect of the change.

The container industry experienced a 13% boost in capacity in 2021 due to various supply chain issues, increasing transit times. However, the shorter transit times that followed and fluctuating demand left the industry with an excess of 13 million containers globally in the spring. To make things more complicated, this surplus has led to a drop in container rates, and there's a cost attached to it, about $0.50 to $1 per 20-foot equivalent unit (TEU) per day for regular containers, and potentially more for specialized containers like reefers and chemical tanks.

Production of TEUs plummeted by 71% from 1.06 million to 306,000 between the first quarter of 2022 and the same period in the following year. The push to diversify container production away from China doesn't provide a clear picture of how much capacity will shift away from the Chinese giant.

China's advantage doesn't stop at scale; they have a bustling export market, ensuring immediate utilization of their containers. In contrast, containers produced outside China often face skepticism due to quality concerns and higher costs.

Vietnam has emerged as a strong contender in this shift, with the capacity to manufacture a significant chunk of the world's steel boxes. India is also stepping up to the plate, looking to diversify the container production landscape.
"There was a significant discussion about container scarcity during the pandemic, but it had nothing to do with any geopolitical underlying reasons. The only reason, in my view, would be geopolitical risk management — i.e., you want to hedge yourself against a black swan event where trade relationships with China are sanctioned or the like," Roeloffs adds. "The numbers don't lie. While diversifying container production away from China might seem like a great idea, we need to tread carefully. The surplus of containers and the complexities of repositioning containers raise concerns about the effectiveness of this strategy in addressing global supply chain challenges."