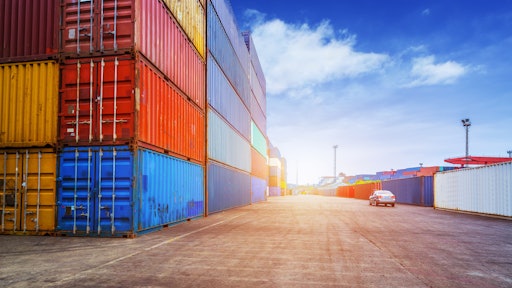 zhu difeng AdobeStock_84691685
In August, U.S. container import volume increased slightly compared to July, which is fairly consistent with the pattern that occurs in peak season in non-pandemic years, according to data from Descartes Systems Group.
While the Panama drought is impacting some types of shipping, to date, U.S. container imports do not appear to be affected. The September update shows continued consistency with 2019 results and signs that key challenges to global supply chain performance in 2023 have stabilized.
"In August, U.S. import container volume flattened and is still relatively consistent with the peak season patterns we would see pre-pandemic," says Chris Jones, EVP industry Descartes. "While the drought in Panama is affecting some shipping traffic, U.S. container import volumes do not appear to be impacted as volumes at the Gulf ports over the last two months have been at their highest levels this year and transit times have been consistently low."
Key takeaways:
August U.S. container import volumes increased 0.4% from July to 2,196,268 twenty-foot equivalent units (TEUs) vs. August 2022, when TEU volume was lower by 13.2%, but up 2.5% from pre-pandemic August 2019.
The growth in import volume over the first eight months of 2023 is within 2.1% of the same period in 2019.