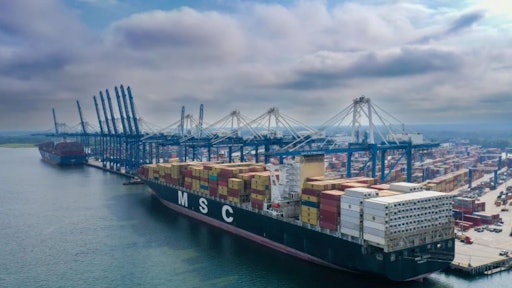 South Carolina Ports Authority
Fifteen ship-to-shore cranes now stand 155 feet above the wharf deck at Wando Welch Terminal, a key part of Port of Charleston's $500 million investment to modernize Wando Welch Terminal.
"It is truly remarkable to see the final crane of our new fleet moved into place on the Wando Welch Terminal wharf. This is the culmination of years of effort, planning and coordination by our team and project partners," says SC Ports president and CEO Barbara Melvin. "Our modern equipment provides smarter operations and more fluidity for the supply chain."
From South Carolina Ports Authority:
With five cranes to a berth, Wando Welch Terminal is now more capable of efficiently working three 14,000-TEU vessels simultaneously.
The new ship-to-shore cranes have 155 feet of lift height and the ability to reach out over 22 containers to work the biggest ships calling the East Coast. Crane operators efficiently move containers on and off ships, helping to keep the supply chain fluid.
The multi-year project enhanced capacity and operations with new container handling equipment, a modernized container yard and refrigerated cargo yard, improved traffic patterns and IT systems, a strengthened wharf and an on-terminal transload facility for mega retailers.
SC Ports also extended Sunday gate hours for motor carriers through at least peak season, significantly improved rail dray dwell times, hired more than 150 people in operations to handle the influx of cargo and launched a port-owned and port-operated chassis pool. These efforts have helped SC Ports maintain fluidity.