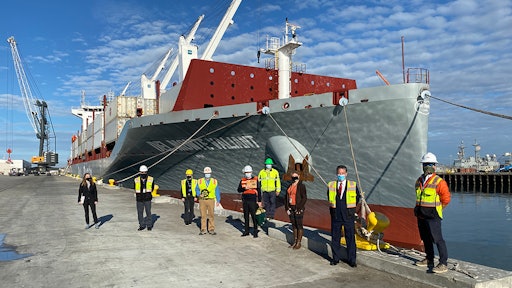 Port of Hueneme
The Port of Hueneme welcomed the first of two cutting-edge, energy-efficient Del Monte Valiant vessels, continuing the port's mission to be the cleanest, greenest, most efficient port possible.
These ships are part of a new, six-vessel fleet — all have full cargo capacity of 1,276 twenty-foot equivalent units (TEUs) with 634 plugs for 40-foot-high cube reefer containers. The air-cooled containers will maintain the cargo at specified temperatures, traveling in reefer mode with multiple temperature variants from -25°C to 40°C. These features will help ensure that produce will arrive as fresh as possible.
"We have been working toward this goal since 2017 and could not be more excited to see it come to fruition," says Helmuth Lutty, SVP of shipping operations for Fresh Del Monte Produce. "As one of the world's leading producer, marketer and distributer of fresh fruits and vegetables, we have set a very high bar for all the reefer containers and ships in our fleet. These six new vessels set the bar even higher, and allow us to deliver the high-quality fresh fruits and vegetables we are known for while meeting our sustainability goals."
From Port of Hueneme:
The

Port of Hueneme

is said to be one of the most productive and efficient commercial trade gateways for niche cargo on the West Coast.
The Valiant and her sister ships are fitted with environmentally beneficial features, including a Hybrid Scrubber system to reduce pollution and control emissions of noxious substances, and shore power connection, so that the ships are zero emission while docked at the port.