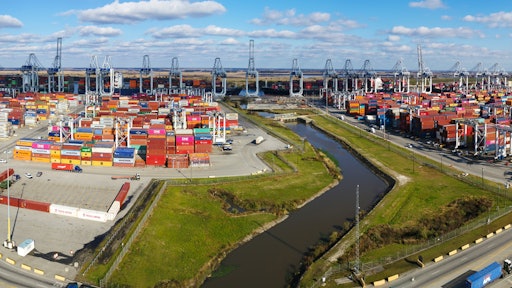 Georgia Ports Authority
The Georgia Ports Authority (GPA) announced plans to increase the Port of Savannah's container capacity by 20%.
"Right now, we are moving container volumes that we did not expect to see for another four years," says GPA executive director Griff Lynch. "Our employees are working very hard to ensure we continue to provide our customers with world-class service. Additionally, we are expediting capacity projects that will increase the speed and fluidity of cargo handling at the Port of Savannah."
The terminal enhancement, dubbed the Peak Capacity project, will establish 2,100 new grounded container slots and add 650,000 twenty-foot equivalent container units (TEUs) of annual container yard capacity in two phases, with the first opening in September.
GPA also approved a Berth 1 renovation designed to increase berth capacity by an estimated 1 million TEUs per year by June 2023.
In its busiest February ever, the Port of Savannah moved 390,804 TEUs of cargo, an increase of 7.2%, or 26,400 TEUs compared to February 2020.
GPA also approved the purchase of eight new ship-to-shore cranes, which will arrive in 2023, allowing Garden City Terminal to serve more 15,000-plus TEU vessels.
GPA also approved the purchase of 20 new rubber-tired gantry cranes, allowing for additional capacity in the same terminal footprint.