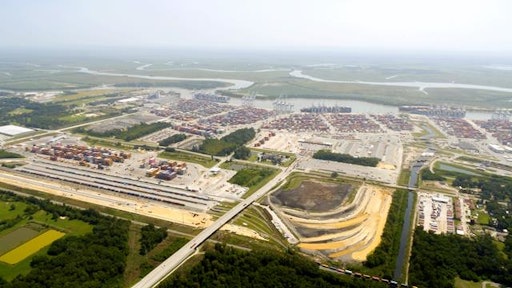 Georgia Port Authority
Intermodal cargo continues to grow at the Georgia Ports Authoring, rising 10.5 percent in July. Over the past three years, the Port of Savannah has grown its rail volume by 35.4 percent, completing more than 507,000 intermodal lifts in the fiscal year that ended in June.
"We're moving containers from ship to outgoing rail in less than 24 hours at the Port of Savannah," says GPA Executive Director Griff Lynch. "That world-class service is why we're capturing more business to inland destinations, and converting more cargo from truck to rail."
The Port of Savannah handled 47,255 rail lifts last month, an increase of 4,511 containers compared to 2018. The growth comes as the first sections of a new rail track has become operational on the Mason Mega Rail terminal, now 40 percent complete. Phase I of the project is expected to open by the end of the year, while Phase II will open in 2020. In total, the project will have doubled the port's rail lift capacity to 1 million containers per year. Additionally, the Mega Rail Terminal will improve vehicle traffic flow in neighboring communities by moving all rail switching on terminal.
"Part of our cargo growth is certainly related to the strong state and national economies, but GPA is also growing its profile among U.S. East Coast ports," Lynch said. "This success is possible only through the effort and dedication of our GPA employees, the International Longshoremen's Association, stevedores, river pilots, the shipping lines and our partners in trucking and rail."