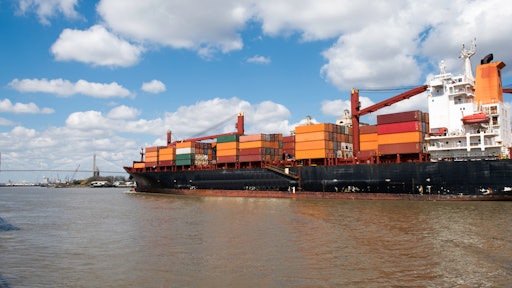 Getty Images
The Port of Savannah has begun is expansion process, with the goals of being able to unload six 14,000 TEU vessels at the same time. The Big Berth/Big Ship program will be completed in 2026.
"No other single container terminal in North America has the ability to expand berth capacity at this rate," says Georgia Ports Authority Executive Director Griff Lynch. "Currently, Savannah's Garden City Terminal is equipped to handle two of these vessels and by April of this year that number will increase to three."
The GPA also plans to add another 21 Neo-Panamax ship-to-shore cranes to replace older models over the course of the next five years.
According to Savannah Now, January is the busiest month for the port, moving 433,975 TEUs, a 28 percent jump since last year. The numbers are only expected to continue to grow this year as well.
Meanwhile, the Savannah market is also seeing growth in private development as well. In the last two years, private investors have added 9 million square feet, bringing the city's total industrial real estate market to 60.6 million square feet.
"The Savannah market outpaces its peer group for warehouse demand. One of Savannah's strong suits is that within a 30-mile radius from Gate 4 there is still a real deep inventory of industrial sites and parks that have very effective access to and from Garden City Terminal," Blaine Kelly, senior vice president in the global supply chain practice of industrial real estate firm CBRE tells Savannah Now. "Not surprisingly, it really all starts with the ports infrastructure, the access to global markets, the capacity for long-term growth, and the proximity to the immediate and regional customer base."
Meanwhile, the port is expected to go even higher as more temperature controlled facilities and infrastructure gets added. Additionally, Phase I of the Mason Mega Rail project will also be completed later this year.
To read the full original article, please click here.