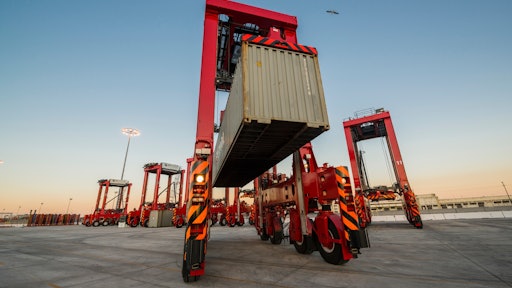 Port automation can be a sensitive topic in some circles. The advent of robotics and automated terminal equipment is undoubtedly impacting longshoremen and highly coveted union jobs, yet in order to stay competitive and efficient, major container ports around the world, especially those in the United States, are compelled to continue the embrace of automation.
"Our world is moving rapidly toward an autonomous, automated and transparent future of global logistics. This is a world in which cars, road trucks and container vessels operate autonomously and smoothly together, containers and other types of cargo are handled in a highly efficient manner, and fully automated terminals adopt modern tools and technologies that attract skilled workers," wrote Jari Hamalainen, director of terminal automation for Kalmar, a leading manufacturer of cargo handling solutions, in a recent blog.
While automated terminals and self-driving cars have gotten a lot of attention these past few years, they are only one aspect of the logistics chain of the future, he says.
"In this vision, a transparent information flow extends throughout the cargo handling and global supply chain all the way from producer to consumer. Openness and transparency pave the way for new competitors and partners, many of which will own or operate no physical assets. This enables highly optimized cargo handling operations in which logistics companies sell business performance and sustainability instead of mere transportation of goods," explains Hamalainen, who adds that the "most intelligent solutions" will be the "winners."
The benefits of an open and transparent supply chain not only enhance the marine shipping environment, but also extend to other players in the global supply chain as well as to the end consumer.
"When we start to enable fully digital, transparent end-to-end transactions, we will be able to connect factories, assembly lines, cargo brokers, forwarders, trucks, cargo vessels, trains and warehouses into one continuous digital supply chain," he notes. "It may be an autonomous vehicle that finally delivers your new sneakers to your home, but the real magic will be in everything that has happened to that point to make it possible." 
Digital Initiatives Underway at Key Ports
The Port of Rotterdam announced a digital transformation initiative with IBM earlier this year. While self-driving cars and trucks are in the spotlight today, the port aims to make waves by hosting autonomous ships by 2025.
According to Vincent Campfens, a business consultant for IoT and smart infrastructure at the Port of Rotterdam, to prepare for this reality, "we are actively enhancing our entire 42-kilometer port area, from the City of Rotterdam all the way to the North Sea, with IBM Internet of Things technologies and IBM Cloud," which will position the port to become "the world's smartest connected port," he says.
One of the first steps is to use IBM's IoT in order to "create a digital twin of the port—an exact digital replica of our operations that will mirror all resources at the Port of Rotterdam, tracking ship movements, infrastructure, weather, geographical and water depth data with 100 percent accuracy," says Campfens. "This part of our digitization initiative will help us test out scenarios and better understand how we can improve efficiencies across our operations, while maintaining strict safety standards."
The Port of Rotterdam processes over 140,000 vessels every year, and berthing a single vessel can take hours. Applying IoT technology to the berthing process can give real-time visibility of operations to all parties, saving time and boosting cargo throughput.
"In fact, shipping companies and the port stand to save up to one hour in berthing time, which can amount to $80,000 in savings for ship operators and enables the port to dock more ships each day," he says.
At the same time, Campfens says the port is "starting to use IoT sensors, augmented intelligence (AI) and smart weather data, orchestrated by IBM and other partners to measure things like the availability of berths and other vital statistics."
Accessing a range of granular data, such as air temperature, wind speed, relative humidity, turbidity (cloudiness) and salinity of the water, along with tides and currents, will make it easier to predict conditions at the port each day and determine how smooth a vessel's entry into the port is likely to be.
"Calm water and weather conditions allow for lower fuel consumption rates, facilitate cost effective per-ship payloads and help ensure the safe arrival of cargo," he adds.
Meanwhile, IBM's cognitive IoT technology is being used to enhance other areas related to shipping, namely the production of parts for the vessels themselves.
A new R&D facility called the Rotterdam Additive Manufacturing LAB (RAMLAB) is the first 3D printing field lab that caters specifically to seaports and shipping companies and has the potential to enable wide-scale availability of certified metal shipping parts, explains Campfens. IBM's technology is part of this 3D parts production process, which uses a robotic welding arm to apply high-quality metal layer-by-layer to create ship components such as propellers, on-demand and faster than ever before.
"Where a traditional manufacturing process of a specific ship's component usually takes six to eight weeks, we anticipate it can now be done in just 200 hours," he says.
In the Middle East, Abu Dhabi Ports' Khalifa Port is embarking on its next phase of automation with a blockchain project aimed at creating a paperless environment.
In June, Abu Dhabi Ports, a master developer of ports and industrial zones in Abu Dhabi, announced the launch of its own blockchain offering, called Silsal, which combines blockchain technology and unique digital user identities "to provide a seamless and secure link between stakeholders across the trade community," according to the company.
In particular, the company says Silsal was conceived to address the gap in the market for exporters and importers, to provide easy and public access to transaction status updates, reduce the need for paperwork, calls and physical visits, as well as to speed up information exchange overall. Initially, the technology will be offered to freight forwarders and their customers, and subsequently extended to the rest of the trade community as a complementary tool to the existing Maqta's Port Community System (mPCS), which is part of Abu Dhabi Ports' Maqta Gateway digitalization project.
Dr. Noura Al Dhaheri, CEO of Maqta Gateway, notes that blockchain is a key step in the digitalization of trade.
"Through Silsal we will be offering the trade community secure and integrated access to blockchain technology, with the added value of cost and time savings through real-time track and trace, reduction in paperwork and ease in extracting vital information to receive live updates," he says.
Abu Dhabi Ports' Ross Thomson, chief commercial and strategy officer, touted in an interview with Logistics Middle East that Khalifa Ports is working to become "the first paperless port anywhere in the world," and blockchain and smart contracts are integral to that effort.