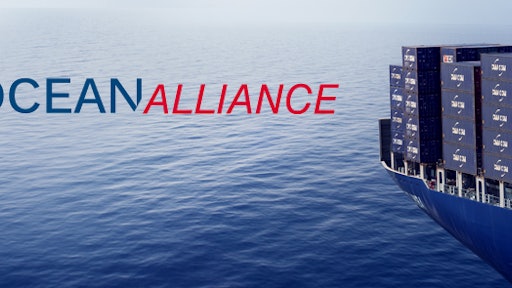 The Federal Maritime Commission (FMC) has concluded its review of the proposed OCEAN Alliance, allowing it to become effective on Monday, October 24, 2016.
The announcement follows an exhaustive review process by the Commission that thoroughly examined all aspects of the proposed agreement to assure that competition in the ocean transportation industry would not suffer. Commissioners and Commission staff extensively engaged filing counsel on a number of issues, and took advantage of the opportunity allowed for under the law to issue a Request for Additional Information, which necessitates the filing of further documentation in support of the application.
The OCEAN Alliance is comprised of COSCO Shipping, CMA CGM, Evergreen Marine, and Orient Overseas Container Line Limited (OOCL). Agreement members are now permitted to share vessels; charter and exchange space on each other's ships; and, enter into cooperative working arrangements in international trade lanes between the United States and ports in Asia, Northern Europe, the Mediterranean, the Middle East, Canada, Central America, and the Caribbean.
"The Commission worked very hard to balance the needs of not only the OCEAN Alliance applicants, but all other parties involved in the intermodal supply chain, with the ultimate goal of safeguarding competition in international oceanborne common carriage, with the American shipping public foremost in mind. The Agreement going into force represents a consensus of what will allow OCEAN Alliance carriers to achieve efficiencies without harming the marketplace," noted Federal Maritime Commission Chairman Mario Cordero. "I applaud both Commission staff and the filing parties for not only their hard work, but the professional manner in which they addressed matters raised during the review process."
To read more, click here.