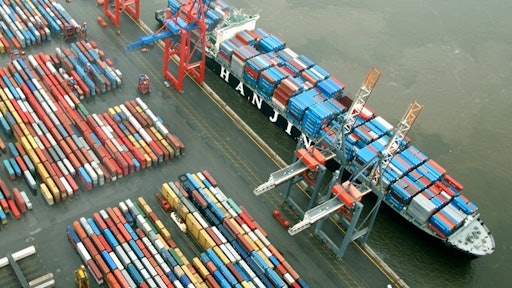 Korean shipping line Hanjin Shipping Co. Ltd. won an order on Tuesday from a U.S. judge extending bankruptcy protections so its vessels can dock at U.S. ports without fear creditors will try take actions against the ships as they have in other countries, according to Reuters.
U.S. Bankruptcy Judge John Sherwood approved a motion by the world's seventh-largest container carrier that sought to extend to the United States the protection from creditors that it has under receivership in South Korea.
The move prevents U.S. creditors from taking actions against the company's ships and other assets.
The order is temporary and Hanjin will need to return to court on Friday for a final order after talks with stakeholders to try to resolve complex problems involving ports, terminal operators and retailers, Sherwood said.
"It's a logistical mess," Sherwood said.
Hanjin filed for what is known as Chapter 15 bankruptcy protection in the United States and sought an order recognizing proceedings in South Korea and protecting its U.S. assets.
Some Hanjin vessels have not docked due to uncertainty about the company's finances.
As of Monday, 70 Hanjin ships had been denied access to ports and three had been seized in Singapore and China by creditors through court orders.
Sherwood said he would sign the interim order after a lawyer for Hanjin said its parent company would raise $100 million for the shipping line to meet its cargo commitments.
Hanjin's bankruptcy comes as U.S. retailers are anticipating shipments of Asian-made merchandise for the holiday shopping season.
To read more, click here.