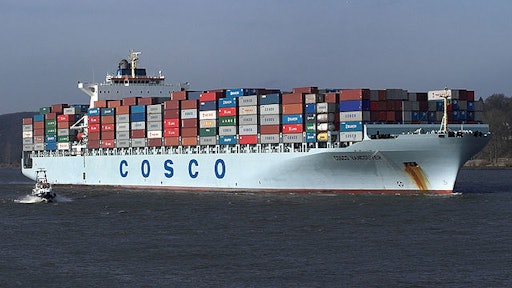 Some of the world's biggest ocean shipping alliances could be much bigger by month's end, as top container operators vie for regulatory approvals of new tie-ups, industry executives said Tuesday, according to The Wall Street Journal.
The changes come as Chinese majors China Ocean Shipping Co., or Cosco, and China Shipping Group Co. are trying to get their recently completed merger approved by European Union (EU) and U.S. regulators. The Chinese watchdog already has given a thumbs-up to the merger.
France's CMA CGM SA also is seeking regulatory approvals by all three regulators for its $2.4 billion acquisition of Singapore's Neptune Orient Lines Ltd., announced in December.
The European Commission, the EU's regulator, has set April 29 as its deadline to decide on the merger of CMA CGM and NOL.
CMA CGM and China Shipping Container Lines, the container unit of China Shipping Group, currently belong to the Ocean Three alliance along with Dubai-based United Arab Shipping Co. The alliance has a 22% market share of all cargo moved between Asia and Europe, the world's busiest ocean trade route.
To read more, click here.
Editors Insight: No one can predict the future, but considering the merger activity among ocean carriers, there is a good chance that carrier rates could rise in the future. Supply chain decision makers have to consider all their options to determine the best strategies.
John Westwood, a global supply chain consultant, offered suggestions for shippers in the wake of last year's West Coast port strikes last year on Food Logistics website. His suggestions include consideration of alternative ports, the spot market and air freight. 4-13-16 By Elliot Maras