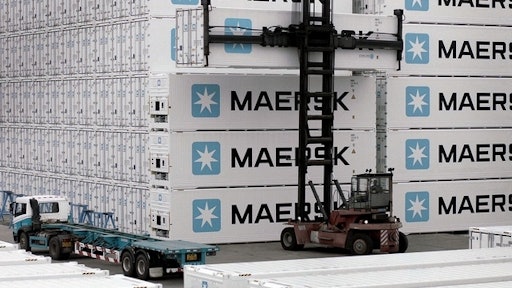 Maersk Line, owned by A.P. Moller-Maersk , plans to increase freight rates for transporting containers from Asia to Northern Europe by $400 per 20-foot equivalent unit (TEU) from April 1, it said on Tuesday, according to Reuters. The increase would take rates up by 190 percent on the current level, which is widely seen as loss-making. The shipping company also aims to raise freight rates from Asia to ports in the Mediterranean by $500 TEU.
The container shipping industry has been struggling because of overcapacity as a result of the global economic downturn.
Swiss-based Mediterranean Shipping Co. (MSC) and France's CMA CGM, the world's second and third-largest container shipping groups, said earlier in March they aimed to hike rates from Asia to Northern Europe by $500 per TEU, also with effect from April 1.
To read more, click here.
Editors Insight: Whether or not the rate increase holds remains to be seen. The drop in demand for Chinese exports along with overcapacity in the market is causing turmoil for carriers and terminal operators, a scenario that favors shippers.
Food Logistics yesterday reported spot rates on 11 trade routes between Asia, Europe and the U.S. has fallen by 62 percent in the past year.
An even more positive development for the food and beverage shippers is that container carriers are aggressively investing in reefer fleets, as noted by Food Logistics Editorial Director Lara L. Sowinski in the January/February "Cool Insights" column. 3-16-16 By Elliot Maras