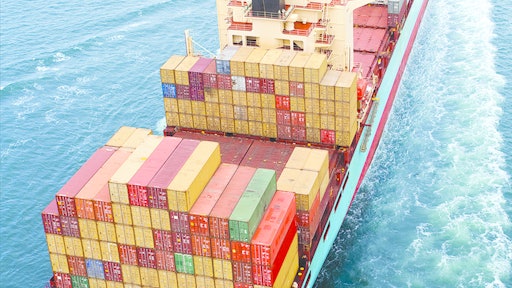 Too many ships amid a soft economy have sent ocean-going container rates to new depths, according to The Globe and Mail in Toronto, Canada.
An index of spot rates on 11 trade routes between Asia, Europe and the U.S. has fallen by 62 percent in the past year, according to Drewry Shipping Consultants, which has published the World Container Index since 2011.
"There's been an arms race in building bigger and bigger ships and they're coming at a time the economy is slowing," said Jonathan Chappell, an analyst at Evercore ISI in New York.
Demand for consumer goods, which generally move by container, is not as weak as China's demand for metals, but it is softer than it's been in years, he said by phone.
An oversupply of massive new container ships serving the China-to-Europe routes has pushed smaller ships to the Atlantic Ocean and depressed rates between North America and Europe, said Andrew Abbott, chief executive officer of Atlantic Container Line (Canada) Ltd.
He calls the plunge in container rates "a bloodbath."
"All of these big (shipping) lines have added so many ships, it's gotten out of control, totally," Abbott said from New Jersey. "They're killing each other on the Asian trade because that's where all the big ships are going. And as they bring on a big, big ship on the Far East-Europe run … they've been sticking those (smaller ships) in the Atlantic and dropping the prices accordingly. It's actually squeezed us a lot."
A slowdown in Chinese economic growth has hammered the global shipping industry, which exited the Great Recession to take advantage of low interest rates to buy new ships to handle a rising amount of coal, iron ore and consumer goods. But as China's factories scale back and the economies of Europe and North America gear down, the amount of cargo traversing the oceans has slowed.
The cost of shipping industrial commodities such as coal, ore and grain recently hit record lows, according to the Baltic Dry Index.
To read more, click here.