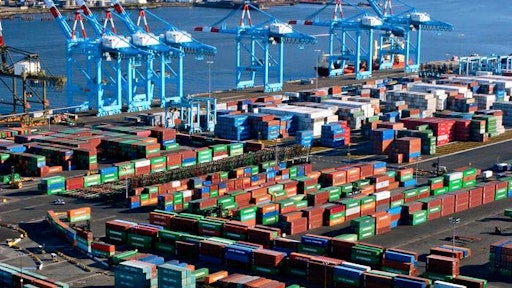 The Port of New York and New Jersey exceeded its previous record for annual cargo volumes in 2015 by more than 10 percent, building on the jobs and economic activity the port generates for the bi-state region, the Port Authority announced.
During the year, the port handled 6,371,720 20-foot equivalent units (TEUs) (or 3,664,013 cargo containers), an increase of 10.4 percent over 2014 when the previous annual record was established. The record volumes allowed the port to maintain its position as the busiest on the East Coast with nearly 30 percent of the total market share. Despite the increases in cargo, the Port of New York and New Jersey has experienced a 33 percent reduction in port emissions pollutants since 2006 due to environmental initiatives it has implemented.

ExpressRail, the Port Authority's ship-to-rail system serving New York and New Jersey marine terminals, also set a new record, handling 522,244 containers, an increase of 12.2 percent over 2014, the previous best year for rail activity. The agency's investment of more than $600 million in ExpressRail – and its upcoming plans to build a new ExpressRail facility in Greenville Yard in Jersey City – has been critical to addressing the need for on-dock rail to improve port efficiency, competitiveness and reduce emissions. The port's rail projects – along with road and security infrastructure work at the port – are funded by portwide Cargo Facility Charges.
To read more, click here.
Editors Insight: The second consecutive year for record growth at this port despite some big challenges in 2015 demonstrates the importance of port investments in improving the capability of handling the larger vessels that are changing ocean transportation.
The port's January activity also increased despite losing the better part of a week's work to a severe snowstorm and labor issues, according to The Wall Street Journal. January activity also increased despite that fact that China, which has experienced an economic slowdown, remained the top import country serving the port.
There were 2,251 vessel calls in 2015, down 7.4 percent from vessel calls in 2014. The fewer vessel calls demonstrate that much of the cargo coming into the port is arriving in larger ships, a trend that the port expects will continue after the Bayonne Bridge is raised. Construction on the $1.6 billion bridge project continues, with the overall project 44 percent complete and the navigational clearance expected to be done by the end of 2017. 3/3/16 By Elliot Maras