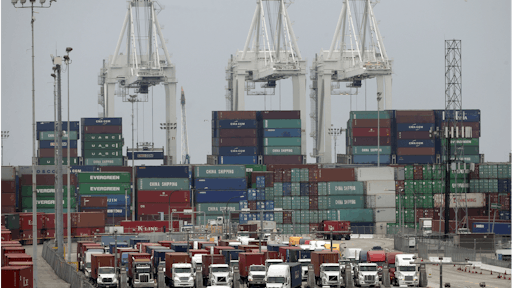 America's busiest ports are sending a warning about the U.S. economy, according to The Wall Street Journal.
For the first time in at least a decade, imports fell in both September and October at each of the three busiest U.S. seaports, according to data from trade researcher Zepol Corp. analyzed by The Wall Street Journal. Combined, imports at the container terminals at the ports of Los Angeles, Long Beach, Calif. and around New York harbor, which handle just over half of the goods entering the country by sea, fell by just over 10 percent between August and October.
The declines came during a stretch from late summer to early fall known in the transportation world as peak shipping season, when cargo volumes typically surge through U.S. ports. It is a crucial few months for the U.S. economy as well: High import volumes can signal a confident view on the economy among retailers and manufacturers, while fears of a slowdown grow when ports are quiet.
Economists are divided as to whether the peak season slump signals a short-term hiccup for the U.S. economy, or marks the start of a sustained period of weakness. Some say the slump is being driven by businesses that have cut back on imports because of a weak economic outlook, which could point to sluggish global growth ahead. Others say it is a side effect of a massive inventory buildup that took place earlier in the year.
Despite the weak peak, imports in the first 10 months of the year at the nation's busiest ports are still up 4 percent from a year earlier, Zepol data show. Rather than ordering huge shipments of goods in the late summer and early fall, more businesses are stocking up throughout the year and holding on to inventories for longer.
To read more, click HERE.