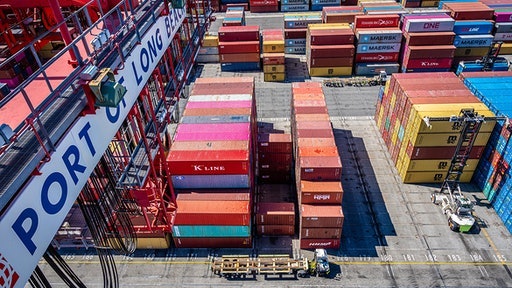 Port of Long Beach
The United States Department of Transportation (USDOT) Maritime Administration (MARAD) announced $703 million in grants to fund 41 projects in 22 states through the Port Infrastructure Development Program (PIDP), the largest amount than any year in the program's history.
More than 60% of the funds will benefit ports in disadvantaged communities and several of the projects will help reduce emissions at the ports through electrification. Additionally, more than $150 million in awards include a focus on electrification of port equipment to reduce emissions and improve air quality.
Here's a breakdown of how the funds will be used:
$68.7 million for a shoreline reconstruction project at the Port of Alaska in Anchorage, Alaska.

$353,500 for the Putnam County Port Development Plan Project in Palatka, Fla.

$9.6 million at Port of Stockton.

Projects to improve truck routes, including $25 million at Port of Camden.

Emissions-reduction projects, including $30.1 million to replace diesel yard tractors with electric yard tractors at Port of Long Beach's Middle Harbor.

Projects to install electric infrastructure, including $27.2 that comprises funds for electric infrastructure to meet the power requirements of ship cold ironing and electrified cargo handling equipment at Cleveland-Cuyahoga County Port Authority.

Projects to strengthen docks to support heavier loads and build new container yards, including $26.4 for the Container on Barge Infrastructure Project in Beaumont, Texas.
"This funding will continue to augment PIDP for the next several years, through Federal Fiscal Year 2026 (FY2026). At a time when vital infrastructure at U.S. seaports has become the subject of national attention, this strong investment will enable projects aimed at improving and expanding port infrastructure to ensure critical cargo is transported efficiently and safely," according to American Association of Port Authorities (AAPA).
Creating a stronger and more resilient supply chain has been a key focus for the President. Earlier this year, President Biden pledged more than $368 million in grant funds to improve rail infrastructure in 32 states.
President Biden also announced an Executive Order to promote fair and competitive agricultural markets, prevent abuse of farmers by poultry processors and make prices fairer for farmers and American consumers.
And, Biden-Harris launched Freight Logistics Optimization Works (FLOW) to keep goods moving throughout the supply chain.
More recently, President Biden helped prevent the rail strike by enforcing a 60-day cooling off period, which could've further crippled an already strained supply chain.
"So many of the goods we all count on, from appliances to furniture to clothes, move through our nation's ports on their way to us," says U.S. Secretary of Transportation Pete Buttigieg. "Using funds from President Biden's Bipartisan Infrastructure Law, this year we're awarding record levels of funding to improve our port infrastructure, strengthen our supply chains and help cut costs for American families."