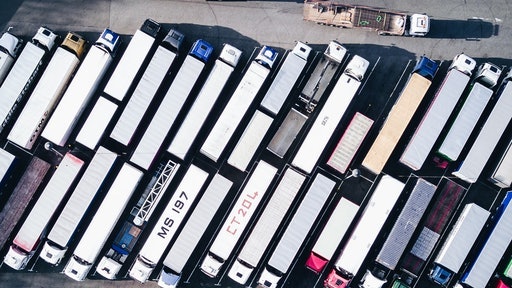 nigel_tadyanehondo_GOD2mDNujuU_unsplash.5f3e857fec1ed
On March 23, a stranded Evergreen container ship blocked navigation in Egypt's Suez Canal. Experts claimed a lack of visibility forced the 224,000-ton ship named EVER GIVEN, said to be the largest ship in the world, to run adrift and tip on its side while en-route to China, creating the largest supply chain disruption in 2021 to date.
Six days later, after hours of digging, tugging and pulling, the around-the-clock international effort eventually freed the massive vessel and re-opened the shipping lane.
While the re-opening of the Suez Canal sent cheers and celebrations around the world, it also set the stage for what became a domino effect of supply chain disruptions.
In Food Logistics' May 2021 issue, editor-in-chief Marina Mayer talks with several industry experts about the Suez Canal crisis, the importance of supply chain visibility and what's in store for the future in terms of mitigating supply chain disruptions.
Here's an interview with Glenn Jones, global VP of product strategy and marketing, Blume Global, with excerpts publishing in Food Logistics' May 2021 issue. [CLICK HERE to read the article in full].
Food Logistics: From your vantage point, what are some of the top challenges and/or opportunities pertaining to ports and ocean carriers? And, why?
Glenn Jones: The Suez blockage reinforced the need for supply chain technology that allows stakeholders to plan routes, track their shipments from end-to-end and make adjustments, in real-time, during the shipment lifecycle as challenges and opportunities arise.
Port congestion on the West Coast is also a significant issue that won't be resolved anytime soon. Since late February, truckers have spent countless hours in line outside the ports of Los Angeles and Long Beach, waiting to pick up time-sensitive cargo. The line of trucks on land mirrors the queue of vessels just off the coast. These dual traffic jams, which bubbled up from the supply chain constraining mix of Coronavirus shutdowns and ramped up demand for online orders, show no signs of abating.
Blume Global, with its VIP Terminal Services, now provides the supply chain technology for dray carriers to retrieve customers' cargo quickly, and more predictably, reducing the uncertainty that has plagued ocean shipping.
Blume Global is helping remove $1 trillion of waste from the global supply chain, making logistics processes more agile, dependable and sustainable with innovative execution and visibility solutions. Blume's service promotes further integrations with marine terminals; provides container availability for import shipments; and extends with execution and visibility solutions beyond the port for true end-to-end supply chain orchestration.
Food Logistics: Despite the impact on our nation's supply chains over the last year, ports and ocean carriers remained undeterred. Instead, they pivoted to become "smarter." How and/or why did this happen?
Jones: Ports and ocean carriers are realizing that none of these recent supply chain challenges have existed in a vacuum. Tariff troubles, COVID shutdowns, the ramp up in online ordering, the Suez blockage, etc., are all part of a bigger picture. Supply chain stakeholders need to be prepared for the unknown and become comfortable operating in a world of uncertainty. Becoming "smarter" by utilizing supply chain technology solutions is a big part of creating an agile organization that can quickly adapt to global challenges and opportunities. Organizations need digitally empowered logistics platforms that leverage data to efficiently make informed decisions.
This increased pressure on the transportation of goods has highlighted the complexities of the supply chain and how much it relies on technology. If supply chain digitization isn't a priority, consumers experience delays and interruptions that lead to shortages of critical items.
Food Logistics: What technologies or features did your port/ocean carrier implement/deploy to become more sustainable?
Jones: Blume Global is a third-party supply chain technology company that provides solutions to shippers, carriers, terminals and other participants in the global supply chain across all modes. Sustainability is at the heart of our solutions. By developing technology that streamlines the logistics world, Blume Global is leading the industry in creating supply chain sustainability solutions, fighting climate change by eliminating significant carbon emissions in a world where most freight is transported using fossil fuels.
For customers, we can display carbon emissions with lane, route and price, which lets shippers take CO2 emissions into consideration when selecting carriers and routes.
Ocean carriers and drayage providers use our street turns solution to eliminate miles wasted on repositioning empty containers for pickup; instead, with our help, drayage partners work with ocean carriers to match outbound moves from rail ramps with inbound moves.
Our domestic re-load program lets ocean carriers reduce or eliminate the cost of returning containers from inland ports via rail by matching shippers with that container capacity. By doing this, carriers aren't returning empty boxes back to the ports, which increases emissions and wastes capacity by quite literally transporting a container full of air.
Sustainability took a backseat for many companies during COVID-19, but there is definitely a demand for sustainable supply chain solutions because customers are looking closer at the environmental footprint of the companies they do business with. We want to be part of that discussion in showing supply chain stakeholders how to use logistics technology to create more environmentally friendly freight transportation options. We're not going to eliminate a company's carbon footprint, but we can help reduce it.
Food Logistics: What technologies or features did your port/ocean carrier implement/deploy to become safer for workers and product?
Jones: On the drayage side, carriers have implemented Blume's CarrierGo, an app that allows drivers to take a picture of signed bill of lading for electronic proof of delivery. This gives drayage drivers a touchless experience, reducing touch points.
Food Logistics: Please provide an update on tariffs? How will the new administration impact tariffs and other taxes going into 2021 and beyond?
Jones: It appears that the Biden administration will support the tariffs former President Trump put in place in 2018. This will most likely continue to force companies that manufacture or outsource manufacturing to move to other low-cost regions reducing. The result is a reduction in Chinese exports to the U.S. and increasing exports from countries like Vietnam, Thailand, Malaysia, Mexico, and select countries in eastern Europe.
In retaliation, China could impose tariffs on U.S. imports into China, including agriculture and food products, which would most likely reduce the demand for U.S. exports.
Food Logistics: What kinds of cold food perishables have you seen an increase or decrease in import/export? What do you attribute this to?
Jones: Blume has seen a decrease in dairy products, and this decrease is primarily due to steamship lines prioritizing returning empty containers to Asia due to the global container shortage. This will continue until the import demand slows down.
Food Logistics: What are some things not addressed above that may be pertinent to our readers?
Jones: We just unveiled a solution called Blume Maps, which is a digital twin of the supply chain that makes planning a freight shipment's route, across all modes (FTL, LTL, parcel, ocean, air and rail), and changing course during the journey if problems arise as natural as using a navigation app during a family road trip. With Blume Maps, shippers can plan for the unexpected and reduce emissions by charting out the most expedient route before the shipment starts.
The inner workings of Blume Maps took over three years to develop, but we have now created extremely accurate and dynamic ETAs using patent-pending technology. We're also adding to an ever-growing database of over 1.5 million global locations, ocean voyages, train journeys, flights and over-the-road moves every day to provide customers with a crystal-clear view into the evolving supply chain. The solution provides alternative modes, carriers and routes when shipments are behind schedule, enabling unrivaled supply chain planning and execution with end-to-end visibility throughout the world.