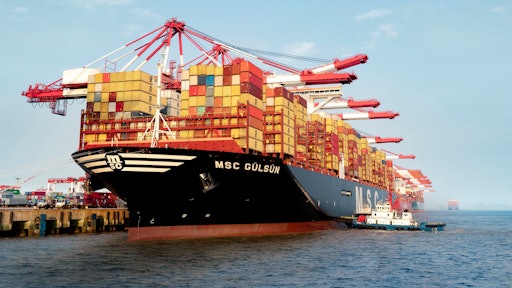 MSC Mediterranean Shipping Co.
When the Coronavirus disease (COVID-19) pandemic hit, the nation's supply chains turned upside down. Consumers flocked to grocery stores to stock up on food and supplies. Foodservice distributors pivoted in order to deliver items to grocery retailers instead of restaurants. Food and beverage manufacturers worked in overdrive to keep up with the surge in demand.
And, for many of today's maritime transportation companies, the tidal wave effect from the COVID-19 crisis was felt coast to coast.
So much that the World Trade Organization (WTO), Switzerland, expects world trade to fall 13-32% in 2020, likely exceeding the trade slump brought on by the 2008-09 global financial crisis.
Another WTO report reveals that the COVID-19 crisis has resulted in 36% of ports reporting an increase in utilization of warehousing and distribution facilities for foodstuffs and medical supplies. And, about 22% of the ports report delays (6-24 hours) or heavy delays (24-plus hours) in cross-border road transportation. One port even indicates cross-border trucking has been discontinued, while 43% of respondents face delays in cross-border trucking activities.
Trade was already slowing in 2019 before COVID-19, weighed down by trade tensions and slowing economic growth. But, estimates of the expected recovery in 2021 are equally uncertain, with outcomes depending largely on the duration of the outbreak and the effectiveness of the policy responses.
"This crisis is first and foremost a health crisis [that] has forced governments to take unprecedented measures to protect people's lives," says Roberto Azevêdo, WTO director-general. "These numbers are ugly—there is no getting around that. But, a rapid, vigorous rebound is possible. Decisions taken now will determine the future shape of the recovery and global growth prospects. We need to lay the foundations for a strong, sustained and socially inclusive recovery. Trade will be an important ingredient here, along with fiscal and monetary policy. Keeping markets open and predictable, as well as fostering a more generally favorable business environment, will be critical to spur the renewed investment we will need. And, if countries work together, we will see a much faster recovery than if each country acts alone."
In fact, the greatest single challenge impacting the global supply chain for food is COVID-19, says Marc Iampieri, managing director in the transportation practice for AlixPartners LLP, New York.
"This is placing great strains upon ocean carrier equipment management, with container imbalances becoming exacerbated initially by blanked or skipped sailings in Asia, and now by demand surges. In short, carriers have their containers in the wrong place," adds Iampieri. "After the Coronavirus, the top challenges for both ports and ocean carriers are rooted in disruption. For example, ocean carriers are dealing with the impacts of IMO 2020. Similarly, the ports are challenged by the impact of supply/demand dynamics of the carriers, but in addition they are exposed to changes in trade patterns, and the ports are also exposed to the consolidation in the market."
The spread of COVID-19 has created significant challenges for world trade and for the container shipping sector in general, according to a spokesperson for MSC Mediterranean Shipping Co., Geneva, Switzerland.
"Our actions began in January following the initial reports of the outbreak in China. MSC announced a number of 'blank sailings' from Chinese ports to U.S. and Europe to rationalize capacity supply following the lower demand due to the extended Lunar New Year holidays and while much of China's industry was on lockdown," according to Pyers Tucker, business development for MSC. "During that time, the pick-up of reefer containers in certain Chinese ports were also impacted. This resulted in congestion of reefer containers in some ports due to a shortage of reefer power plugs at the ports. We had to divert the impacted reefer containers to various transhipment ports in Asia where the respective services call and also where reefer plugs are available."
Another big challenge for carriers is how to manage the re-shuffling of demand, routes, personnel and more.
"Our biggest challenge as a carrier is how much to reduce capacity and costs in light of dropping demand and achieve the best balance between continuing to serve those customers still shipping, save enough costs and be ready to ramp up again quickly when the recovery starts. Some very large bets are having to be placed, with potentially existential consequences," according to a spokesperson for Hapag-Lloyd, Germany. "Most crew changeovers are overdue with many ports forbidding crew coming ashore–and even where they may land--there are not many flights to bring in replacement crew/fly off-duty crew back home. Individual port restrictions due to local COVID-19 measures vary substantially and continue to change frequently, which makes services, port calls and schedules even more difficult to manage. And, many empty containers are in the wrong places due to a string of disruptions due to lock-down measures. But, there will be a recovery!"
For its part, Jacksonville Port Authority (JAXPORT), Jacksonville, Fla., experienced an 8% decline in containers from the previous March, but anticipates seeing a sharper revenue impact in April, May and June.
"The extent of that impact is still to be determined. We are working closely with our ocean carriers and tenants to monitor the situation and prepare," says Chelsea Kavanagh, public information officer for JAXPORT. "Our diversification model played an important role in reducing the impact on our revenue last month. For example, a large U.S. military cargo move took place in March, which helped offset some of the drop in commercial cargo volumes. We also saw an increase in demand in our forest products business. The diversification of JAXPORT's cargo types and trade lanes will help the port to emerge from the virus more readily than a port heavily leveraged in one trade lane or commodity, but our container volumes continue to be a major driver of port growth."
Conducting business as usual
Activities account for more than one-quarter of the nation's economy, support over 31 million American jobs and generate more than $378 billion a year in federal, state and local tax revenue, according to the American Association of Port Authorities (AAPA), Alexandria, Va.
That's why many ports have instituted business continuity plans to remain open and continue moving product in and out of the United States.
For the Georgia Port Authority (GPA), for example, ports continue steady operation with normal, 24-hour vessel operations and terminal services.
To keep cargo moving smoothly, GPA implemented an "Isolate and Operate" strategy, where leadership teams spread out workers to minimize the risk of possible exposure. Where possible, staff members are working off-site via technology that was established in case of hurricanes.
"Our leadership and operations teams remain on terminal to ensure this vitally important gateway continues to run smoothly," according to Griff Lynch, executive director, GPA, Savannah, Ga. "Because this is a time for the port community to come together, we are also in continuous communication with our colleagues at neighboring ports to determine best practices. Our partners at the International Longshoremen's Association have started monitoring the temperature of union members as they report to work."
The North Carolina Ports enforced the Continuity of Operations Plan (COOP) to ensure the safety and well-being of personnel, contractors and visitors while maintaining continued operations during any crisis or event.
To meet the demands of the COVID-19 event, the Port of Virginia implemented a cross-divisional planning and response team by utilizing its own COOP, which provides the framework for managing all hazardous events, including pandemics.
And, for SQF-certified ports such as GT Wilmington USA, Wilmington, Del., mandatory workplace habits and behaviors such as handwashing, sanitation and personal protective equipment were already in place prior to COVID-19.
"The good news is that GT Wilmington USA is prepared more than most terminals in this regard," says Eric Casey, chief executive officer.
Meanwhile, the Port of Oakland's loaded container volume declined 7.4% in March from 2019 totals, a direct result from the COVID-19 pandemic that has weakened global trade.
According to the port, March containerized import volume dropped 10.3% from March 2019, export loads were off 5% and the return of empty containers to origins in Asia decreased 23%.
Cargo volume has also declined at the Port of Long Beach (POLB) due to fewer ship calls amid the overseas COVID-19 outbreak as well as lingering effects from the trade dispute with China. Terminal operators and dockworkers moved 538,428 20-foot equivalent units (TEUs) in February, down 9.8% compared to February 2019. Imports dropped 17.9% to 248,592 TEUs, while exports increased 19.3% to 125,559 TEUs.
Although the United States and China signed a Phase 1 preliminary trade agreement in January, about $370 billion in Chinese goods remain under the increased tariffs. COVID-19 has caused further disruption to the supply chain with an increase in canceled sailings and a reduction in cargo moving through the nation's second-busiest port. "With the extended factory closures and slowdown of goods movement in China and other Asian countries in February due to Lunar New Year and COVID-19, we are seeing shipping lines needing to cancel some sailings," says Mario Cordero, executive director of POLB. "Once the virus is contained, we may see a surge of cargo, and our terminals, labor and supply chain will be ready to handle it."
Improvements move forward at full steam ahead
The Coronavirus may be hampering global trade, but it hasn't broken the supply chain at the Port of Oakland. That's because it received the port's largest ship ever—the container vessel MSC Anna.
The 1,312-foot-long vessel was on special assignment from MSC to collect a backlog of empty containers in Southern California before arriving in Oakland.
"We've spent years, and millions of dollars keeping ahead of the pace of trade and the size of ships," says Danny Wan, executive director of Port of Oakland.
The MSC Anna can carry up to 19,200 20-foot cargo containers, making it what is said to be the largest vessel ever to visit a North American port.
Outside the Coronavirus situation, another priority for MSC is the ongoing journey toward sustainability.
"MSC is committed to reducing the environmental footprint of global supply chains and keeps investing in sustainable global trade via the largest container shipping investment program in the industry, including retrofitting the existing fleet with IMO approved Exhaust Gas Cleaning Systems (ECGS)," adds Florian Liebetrau, director IT, marine and maritime operations, MSC.
For instance, in 2019, MSC introduced a new class of 23,000-plus TEU ships – led by MSC Gülsün, said to be the largest container ship in the world, with the lowest carbon footprint by design.
"In addition, MSC is actively engaging with potential vendors to investigate solutions related to biofuel blends, hydrogen fuel cells, complementary battery power, and possibly wind and solar, as part of a long road of discovery in relation to future policy goals," says Liebetrau.
MSC also expanded its fleet with 5,000 refrigerated containers equipped with Carrier Transicold's XtendFRESH atmosphere control technology. This system manages oxygen and carbon dioxide levels within refrigerated containers and removes ethylene, thus slowing the ripening of produce and helping to preserve its quality beyond what can be achieved by refrigeration alone.
In addition, MSC is installing StarConomy control software on its entire Star Cool fleet, reducing energy consumption by up to 50%.
"Given that 90% of the world's goods are moved by cargo shipping, and it's by far the most energy efficient mode of global cargo mass transportation, shipping will continue to play a critical role in helping consumers in different parts of the world enjoy fresh fruit and vegetables all year round," Liebetrau adds.
Meanwhile, the Long Beach Container Terminal and SSA Marine at Pier J shipping terminals at POLB are adding new zero-emissions equipment known as top handlers. These new terminals will demonstrate three never-before-tested Taylor battery-electric top handlers (two at SSA and one at Long Beach Container Terminal) for approximately six months. The equipment is part of POLB's Commercialization of POLB Off-Road Technology Demonstration Project (C-PORT), which is designed to test the viability of the zero-emissions vehicles used on the docks to meet the port's 2030 goal of a zero-emissions cargo handling fleet.
"We expect these battery-electric top handlers to be able to make it through the daily two-shift cycle before needing a recharge," says Cordero. "We're eager to see the advancements in technology that come from this demonstration, and what it means for the commercialization of this equipment." The Harbor Commissions from the Ports of Los Angeles and Long Beach will both consider a resolution to approve a proposed Clean Truck Rate, which is expected to accelerate the introduction of cleaner drayage trucks into the port complex. Meanwhile, the Hugh K. Leatherman Sr. Terminal at the South Carolina Ports Authority prepares to open a new container terminal in March 2021.
The 34,853-square-foot building, built by Samet Corp., will have offices, meeting spaces, crane operator rest and training areas and a full-service kitchen, as well as the backup power required to maintain critical infrastructure in the event of a power outage.
The state-of-the-art facility will boast both electric and hybrid equipment to ensure efficient operations while reducing emissions. Phase 1 will house the tallest ship-to-shore (STS) cranes at the Port of Charleston with five cranes with 169-foot lift height, as well as 25 new hybrid rubber-tired gantry (RTG) cranes, all set to arrive this year.
"In a little more than a year, ships will call on the country's newest container terminal," says Jim Newsome, president and CEO of S.C. Ports Authority. "The opening of the Hugh K. Leatherman Sr. Terminal in March 2021 will greatly enhance our cargo capacity and big ship capability. Our strategic investments and years of hard work are coming to fruition at just the right time, as more ships call on the East Coast. This new terminal propels S.C. Ports into the future."
The Maine Port Authority announced that a waterfront cold storage facility for Iceland-based Eimskip USA, Treadwell Franklin Infrastructure, Yarmouth, Maine, and UK-based Amber Infrastructure. Called the Maine International Cold Storage Facility, the waterfront cold storage facility will serve the station for the seafood, blueberries and potatoes and other perishable exports. The finished facility will encompass 120,000 square feet with a maximum height of 75 feet, 12 loading dock bays and space for 20,000 pallets.
For its part, Port Manatee unveiled a new throughput-maximizing facility to help speed shipments of fresh produce to Florida consumers and beyond.
Then new transfer facility, with room for 120 trailers, optimizes capabilities for expediting movement of cargo by freeing up near-dock yard space for stacking as many as 300 containers at a time.
The North Carolina State Ports Authority welcomed what is said to be the largest containerships following the completion of Phase II of the Turning Basin Expansion Project at the Port of Wilmington. The expansion allows the port to accommodate ultra-large container vessels (ULCVs) with a length of 1,200 feet. Meanwhile, the U.S. Department of Transportation's (USDOT) Maritime Administration (MARAD), Washington, D.C., awarded more than $280 million in discretionary grant funding through the new Port Infrastructure Development Program, which is designed to improve port facilities at or near coastal seaports.
"Ports are gateways to the world, and port infrastructure investments will improve the regional economy, increase productivity and economic competitiveness and create more jobs," says Elaine Chao, U.S. transportation secretary.
The Port Infrastructure Development Program supports efforts by ports and industry stakeholders to improve facility and freight infrastructure to ensure the nation's freight transportation needs are met. Of the 15 projects awarded grants, six are located in Opportunity Zones, which were created to revitalize economically distressed communities using private investments.
The topic of terminal-carrier collaboration has been on Hapag-Lloyd's radar for quite some time.
"At the same time, it will require cross-sector cooperation and has complexities in itself with regards to compliance, competition and security. Any collaboration beyond our vessel and company networks will lead to further interconnectedness and additional technical interfaces," adds Hapag-Lloyd's spokesperson.
Furthermore, a growing number of ports are looking to propane to meet their environmental and energy solution needs.
"Ports operating propane-powered equipment are able to reduce emissions, improve air quality, decrease the negative environmental impacts surrounding facilities and help people living and working near ports across the country breathe cleaner air," says Jeremy Wishart, director of off-road business development for Propane Education & Research Council (PERC), Washington, D.C. "This holds true whether it be a forklift, a medium-duty vehicle or even a small ocean liner moving materials throughout a port."
Propane technology can provide port operations with a variety of advantages, including increased energy efficiency, energy security and resiliency, plus the versatility to tackle a wide variety of applications.
ECU Worldwide, Miami, developed ECU360, a state-of-the-art online platform that provides online visibility and door-to-door rates and manages cargo transportation across a number of origin and destination points within the United States as well as other countries.
ECU Worldwide also launched LCL Express Service "XLERATE," a container freight station to container freight station express service that leverages MATSON Navigation from Shanghai in China to Los Angeles.
And, project44 released an ocean-to-rail intermodal visibility solution that provides real-time geo-location-based tracking on intermodal shipments. project44's intermodal visibility surfaces real-time data from the entire ocean shipping ecosystem—terminals, rail lines, ocean lines and drayage providers—and provides customers one stream of information.
Shifting gears
Just like every sector in the supply chain and logistics industry, ports and ocean carriers have had to shift gears to support those in need.
For instance, the Port of Seattle and the Northwest Seaport Alliance (NWSA) made sections of Terminal 46 available for trailers, storage and container equipment for the U.S. Army's Field Hospital 10.
"The temporary hospital facilities will be for non-COVID-19 patients," says John McCarthy and Peter Steinbrueck, port commission presidents and co-chairs of NWSA.
Logistics and warehouse providers at JAXPORT are prepared to meet the demand for additional warehouse space, as a fluid supply chain is critical.
For example, Argentina-based Axionlog selected JAXPORT to ship all of its U.S. manufactured exports bound for Latin America. Axionlog broke ground on a new $15 million refrigerated and dry storage facility near the port's Blount Island Marine Terminal. Scheduled to open by early 2021, the 38,000-square-foot facility is expected to expand to 100,000 square feet and create 60 jobs within five years. The distribution center will be used to consolidate, sort and store products to be exported through JAXPORT.
Despite the COVID-19 pandemic and its shock heard round the world, U.S. ports and ocean carriers continue to remain open. And, thanks to some energy efficient enhancements, an influx of autonomous solutions and some business continuity plans, and the U.S. maritime industry will continue to act as an important ingredient in moving product in and out of the country.