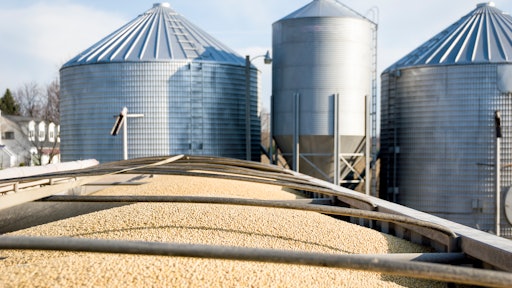 Getty Images
Over the last two decades, U.S. soybean exports have doubled and now account for about half of the total U.S. soybean production. Illinois is the country's largest producer, exporting over $3 billion of the oilseed in 2018. 
The state grows high-quality soybeans, explained Eric Woodie, trade analyst for the Illinois Soybean Association. The soybeans consistently produce high protein content and the amino acid profile is also high, he said, which is a desirable characteristic for foreign buyers.
Not only is Illinois advantageously positioned in the center of the country with good access to port gateways on every U.S. coast, its road, rail and river infrastructure means transportation to those gateways is also excellent.
Containerization and New Markets 
However, in recent years it's been the move from bulk shipping to containerization that has really given the sector a boost in several ways, said Woodie.
The migration to containers came simply enough: shipping lines and others were looking for cargo to fill empty containers outbound from the U.S. to Asia. Corn shipments were one fit, but there was also a fit for soybeans, said Woodie.
Empty containers are provided to Illinois farmers (usually within 100-150 miles of the Chicagoland area), filled with soybeans, and brought to Chicago. From there, most containers are railed to the West Coast, although soybean exports from East Coast ports such as Norfolk, NY/NJ and Charleston are on the rise, he said.
For example, the European market is starting to show significant demand for U.S. soybean exports, while demand is also rising in the Middle East and North Africa.
"Those are several of the new and exciting markets to watch over the next 20 years," said Woodie.
Meanwhile, established markets like those in Taiwan, Thailand, Indonesia and Vietnam are very healthy and containers are a way to maximize that strong demand.
Benefits of Containerization
Specifically, containerization offers soybean farmers several benefits. Previously, foreign buyers (who were also competitors) would typically group together to buy an entire bulk shipment of soybeans. This meant there was little to no transparency in pricing between the U.S. shipper and an individual buyer.
Furthermore, a bulk shipment of soybeans is about 70,000 metric tons, or 2,916 FEU. Shipping smaller quantities in 40-foot containers gave soybean shippers much more flexibility and options in terms of who they could ship to, which countries they could ship to, how frequently they could ship, and what the pricing and terms were.
To top it off, containers help maintain the quality of soybeans better than bulk shipments, Woodie added. There is more breakage with bulk shipments compared to containers, which may not be a significant issue when the soybeans are used for animal feed, for instance, but is important when the soybeans are intended for human consumption.
The Indonesian market is one example. Buyers there not only want high-quality soybeans, they want them whole and intact for a variety of foods, like tempeh.
Moreover, "Customers who want specific varieties, such as non-GMO [and/or organic] and food-grade soybeans, want to maintain the identity of the grain from seed to harvest, processing and transportation to delivery," and containerized shipping enables these requirements. It also allows customers to source soybeans from localized elevators and even specific farmers, noted the Illinois Soybean Association. "IP products tend to demand a premium, making the additional costs of transportation more feasible."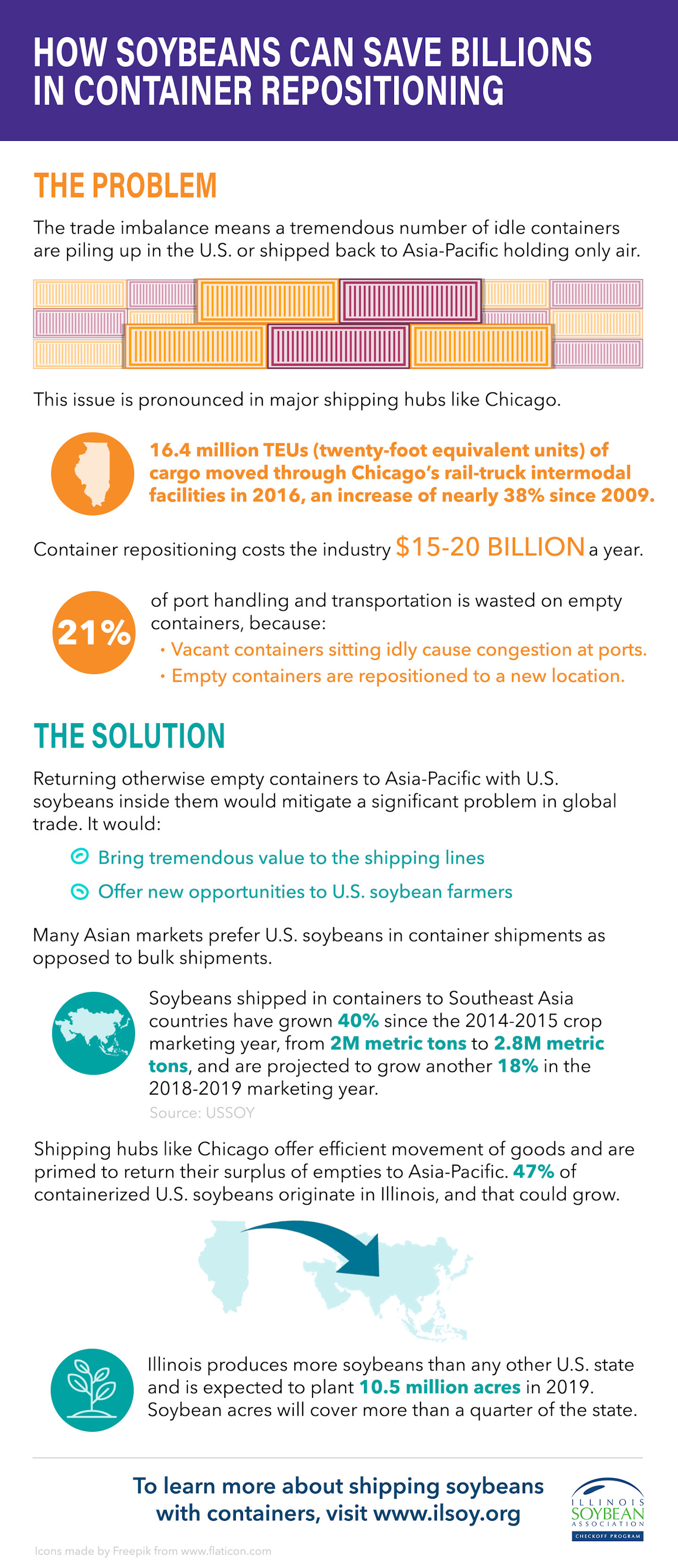 China a Source for Future Growth
According to Woodie, although containerized soybean exports comprise only about 5 percent or so of the current market, the goal is to grow into the double digits over the next two years.
One of the biggest markets for U.S. soybeans—China—has obviously been in turmoil since trade tensions between the two countries intensified over the past year.
"The Chinese market is substantial for Illinois," noted Woodie. "We estimate that a quarter of our annual production over the last few years went to China."
However, the transition to containers has provided somewhat of an unexpected buffer from the market disruption associated with the implementation of retaliatory tariffs, allowing soybean exporters to more easily pivot to other markets and buyers. It's also forcing the sector to look more closely at diversifying their exports.
According to the Illinois Soybean Association, "The need for export diversification has been underscored by recent trade tensions between the United States and China. China has all but stopped buying American soybeans in response to U.S. tariffs on billions of dollars of Chinese goods. The dispute, which led China to impose a 25-percent tariff on U.S. soybeans, sent prices tumbling and increased inventories," and emphasized the need "to transport soybeans in a reliable, cost effective, efficient and secure manner to as many markets as possible."
Soybeans are mostly shipped in bulk and are non-refrigerated. However, it's an important commodity and it's also increasingly moving by container, which presents opportunities for shipping lines and other logistics providers.
It's worth noting that soybeans rank as the largest agricultural export for the U.S. as well as one of the country's top 10 exports overall. In 2017, the U.S. exported $21.6 billion in soybeans, which is more than double the value of U.S. corn sold internationally.