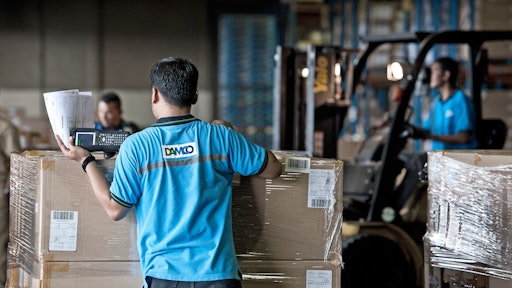 Damco
The collapse of Hanjin Shipping in late 2016 left thousands of containers stranded at sea. BCOs were not only scrambling to retrieve materials and merchandise, in many cases they were hard-pressed to even locate the containers holding them.
In some ways, the Hanjin bankruptcy was a catalyst for improving visibility in the ocean shipping sector. But, there are other drivers, too.
"We are seeing a rise in supply chain technology driven by greater innovation drivers that include the rise of e-commerce and giants like Amazon; a rise in global tariffs; global climate-related regulations; and increased consumer awareness for sustainable sourcing," says Natan Reddy, an analyst with CB Insights.
Many of these drivers are forcing businesses to improve the efficiency of their global supply chains, and because ocean shipping sits squarely in the middle of global supply chains, "there will no doubt be continued demand for ocean supply chain innovation going forward, marked by greater connectivity, visibility, flexibility and automation," Reddy says.
During a CB Insights' presentation entitled, "Digitizing the First Mile: Technology & Shipping," Reddy discussed how technology is beginning to permeate the ocean shipping sector—one that has traditionally relied on phone calls, faxes and paper trails.
Increasingly, retailers, CPG companies and other BCOs are demanding higher visibility in an effort to combat against delays, fraud and lost shipments, which is pushing digitization along the ocean shipping supply chain, he emphasizes.
At the same time, funding for maritime shipping start-ups is on the rise.
"While we have seen a slight pull back in 2018, overall funding to start-ups catering to the maritime shipping industry has significantly increased over the past several years. This is due in part to large deals to start-ups like Flexport, which most recently raised $100 million as part of a Series D round of funding from First Round Capital, among others," explains Reddy.
In addition, SoftBank Vision Fund, along with several partners, announced in February a $1 billion investment in the company, making Flexport the most well funded start-up in the digital freight forwarding space.
"The company provides real-time freight and logistics capabilities to hundreds of clients, including many small-to-medium e-commerce firms, giving them an opportunity to compete against giants like Amazon," he says.
Many of Flexport's clients are e-commerce and consumer start-ups, such as Casper, Warby Parker and Ring.
However, the gravitation toward innovation and technology is not reserved solely for start-ups, adds Reddy.
"Incumbent supply chain players are developing in-house technology to enhance supply chain visibility to compete against the rise of freight forwarding start-ups," he says.
For example, Maersk's freight forwarding arm, Damco, developed a digital freight forwarding platform called "Twill" in April 2017. The platform provides shippers with instant quotes, shipment tracking and digital document management. It has since expanded to trade operations in China, the UK, India and France, among others.
The transportation aspect of the ocean shipping supply chain is also being transformed.
"ClearMetal is using AI-powered insights into the shipment transportation process for retailers and logistics providers, such as Panalpina," Reddy says. The company "helps clients predict which carriers will provide the most reliable service and estimates the risks of delays."
Blockchain is another technology that deserves mentioning, even though there are some who caution it's too early to know if interoperability or other issues will slow adoption of blockchain technology in the supply chain.
If blockchain technology is able to achieve standardization and successful implementations, it could increase trade efficiency, and improve transparency and cybersecurity.
In the meantime, the ocean shipping industry is seeing an explosion of blockchain initiatives, Reddy points out, including those mentioned in the chart on page 40.