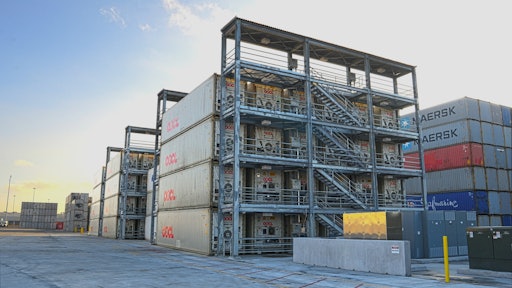 South Carolina Ports Authority
It seems like every month is record breaking at many of the United States' niche and major box ports. In fact, imports at major U.S. retail container ports set three new records this summer as retailers rushed to bring goods into the country ahead of China's retaliatory tariffs, which took effect July 6, according to the monthly Global Port Tracker report released by the National Retail Federation (NRF) and Hackett Associates.
Ports covered by Global Port Tracker—which include Los Angeles/Long Beach, Oakland, Seattle Tacoma, New York/New Jersey, Port of Virginia, Charleston, Savannah, Port Everglades, Miami, Jacksonville and Houston—handled 1.9 million TEUs in July, the latest month for which after-the-fact numbers are available. That was up 2.8 percent from June and up 5.6 percent year over year.
While there are many factors contributing to this trend, it is thanks in part to increased demand for fresh foods like exotic fruits and vegetables often produced by foreign farms. According to data from the United States Department of Agriculture's (USDA) Economic Research Service, more than half of the fresh fruit and almost a third of the fresh vegetables Americans buy now come from other countries. In fact, the proportion of the imported fresh fruit eaten in the United States rose to 53.1 percent in 2016, from 23 percent in 1975, according to the USDA's Economic Research Service, and fresh vegetable imports rose to 31.1 percent from 5.8 percent.
The increased globalization of the produce industry is a result of a number of factors. For one, in many U.S. states, fresh produce is only available a few months of the year. The USDA has also made imported perishables more accessible over the last two decades with the issuance of new rules that allow more crops to be imported from certain countries. Previously specific crops would not have been approved for import because they might introduce invasive pests and diseases, but new innovative systems and technologies can now help to mitigate those risks.   
The USDA projects the trend will only continue to rise, with fresh produce imports rising 45 percent from 2016 to 2027, according to a recent report, USDA Agricultural Projections to 2027.
But as we know, transporting these foods from foreign to American soil is no easy feat. Thus, many ports have taken note and are making big investments in infrastructure, such as on-dock cold storage and rail links, that will be key to beneficial cargo owners (BCO) and their perishable cargoes—and will further support the changing demands of the global food supply chain.
Savannah Growing Chilled Cargo Capacity
Through steady investment over a period of years, the Georgia Ports Authority (GPA) has established what GPA Executive Director Griff Lynch says is the most extensive on-terminal refrigerated cargo infrastructure on the U.S. East Coast.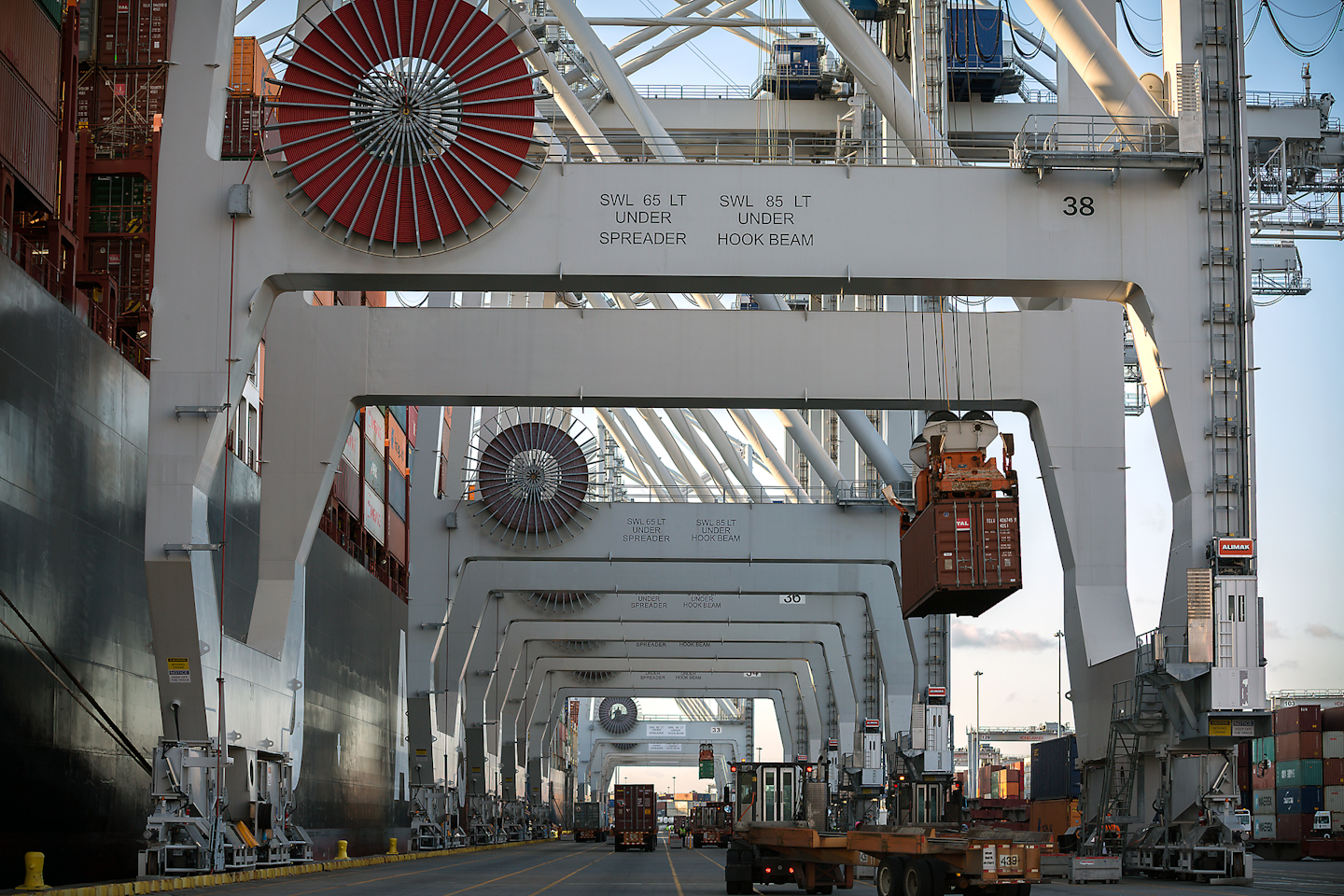 The first of Georgia Ports Authority's new Neo-Panamax cranes came online in March. Six additional Neo-Panamax cranes will arrive in 2020.Georgia Ports Authority/Stephen B. Morton

At present, the Port of Savannah features 104 electric-powered refrigerated container racks, which accommodate 2,496 containers at a time, and the GPA recently began construction on 15 additional racks, adding 360 slots, which will come online in March 2019. The additional infrastructure will bring Savannah's refrigerated container capacity to 3,341, counting 485 plug-ins for chilled containers on chassis.
The major Savannah-area is also home to several cold storage facilities, including:
Frozen

Gulf States Cold Storage: 155,000 square feet
Lineage Logistics: 345,000 square feet
AGRO Merchants: 400,000 square feet 

Chilled

Portfresh Logistics: 100,000 square feet 
"Savannah's extensive capacity for chilled and frozen cargo has helped the port become the busiest import-export terminal in the Southeast for refrigerated containers," says Lynch.
Savannah's location also plays a pivotal role in its success. Currently, the Port of Savannah handles cold-treated produce from Peru, Uruguay and Argentina.
"For importers, landing product closer to the consumer market reduces transit time, creating a much more efficient supply chain and reducing overall cost," Lynch explains.
Savannah also has a strong, established outbound refrigerated market. Lynch says 40 percent of all U.S. frozen poultry exports move through the Port of Savannah, making Garden City Terminal the nation's busiest export terminal for frozen poultry.
"Loaded inbound refrigerated boxes reduce repositioning costs, delivering savings to our ocean carriers, importers and exporters," Lynch adds.  
Also of benefit to BCOs is Savannah's on-terminal inspection offices for U.S. Customs & Border Protection (USCBP) and the Department of Agriculture (USDA), which Lynch says speed the inspection process for chilled cargo.
He further notes that GPA is currently working with USDA and USCBP to expand the number of commodities and countries that can use Savannah as a port of entry. Blueberries are the latest addition to its expanding portfolio, which now includes imported mangos, citrus, grapes, avocados, bananas, apples and pears.
"Through reliable operations and efficient and timely inspections of perishable products, GPA is establishing Savannah as a new gateway to the U.S. Southeast for perishable cargo," Lynch concludes.
Port of Tampa Bay Aims for Gateway to the Midwest   
The Port of Tampa Bay recently completed the first phase of a new 135,000-square-foot on-dock cold storage facility that it hopes will connect the U.S. Midwest to Tampa.
The facility, operated by Port Logistics Refrigerated Services (PLRS), is part of a planned multi-phased expansion that will include additional refrigerated and dry storage capacity for trans-loading, storage, packaging and distribution of food and beverage products, as well as an on-dock rail trans-load terminal to offer express service to the Midwest.
Features of the first phase include:
106 reefer plugs 
On-site dedicated fumigation services 
On-site USDA and CBP inspection areas, USDA lab 
On-site radiation portal monitors 
Safe, food-grade glycol refrigerant used throughout 
USDA approved for cold treatment services 
6,348 racked pallet positions using Interroll gravity fed rack system 
Adjacent to Port Tampa Bay Container Terminal, recently upgraded with Post-Panamax crane capacity 
On-dock facility offering the flexibility to handle both breakbulk/palletized shipments, as well as containers for trans-loading 
Adjacent berth with dedicated mobile harbor crane
According to Rick Sharp, chief operating officer and vice president of development for PLRS, the next phase is to build a food campus that is served by rail with the ability to handle unit trains of perishables.
"We feel strongly that we can connect the Midwest to Tampa and offer our customers tremendous savings in total supply chain costs," Sharp says.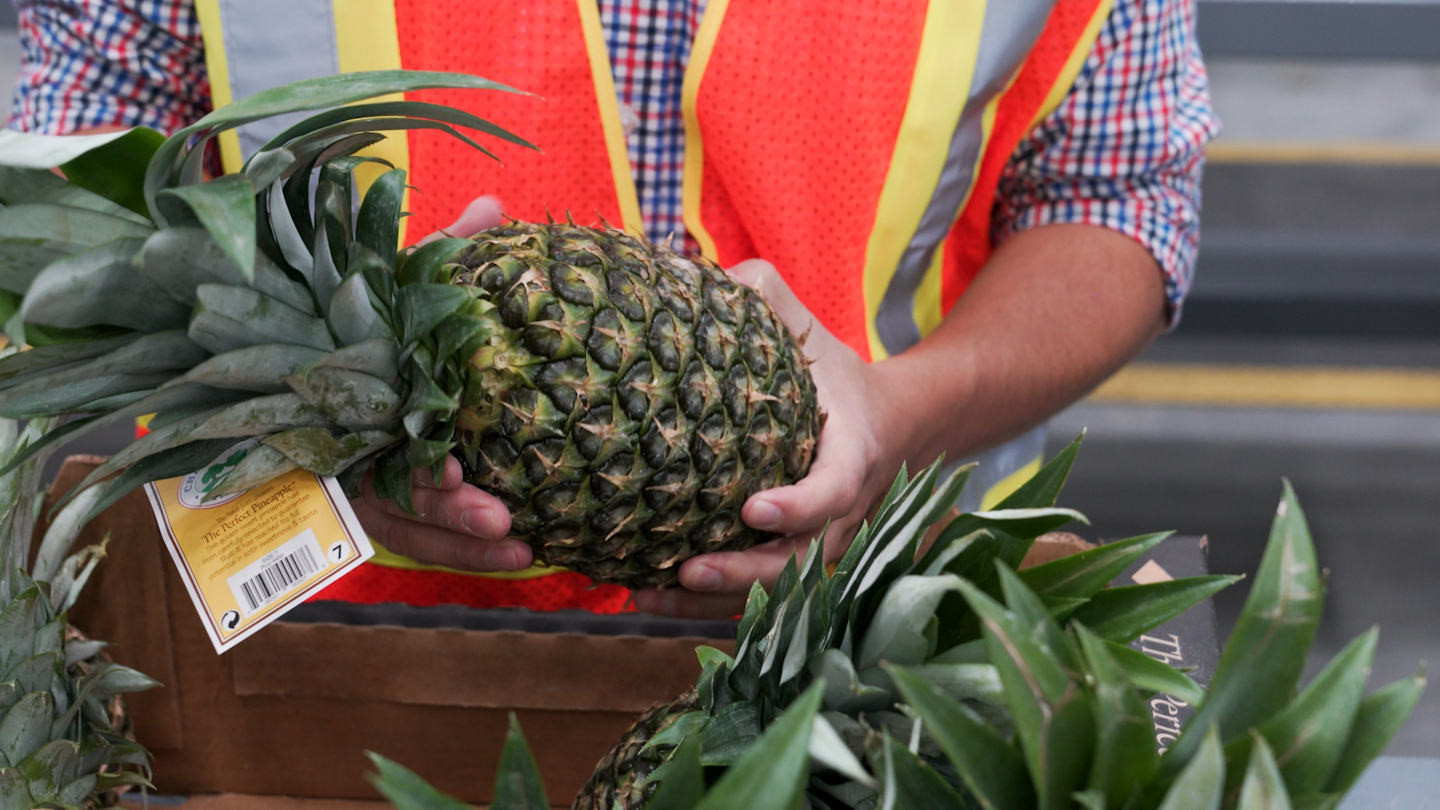 In September, PLRS, the operator of a new Port Tampa Bay cold storage facility, received its first shipment of pineapples from Costa Rica in years.Port Logistics Refrigerated Services

In addition, the Port of Tampa Bay is also seeing an increase in trade with Mexico as a result of the expansion.
"Because of inflated fuel prices in Mexico and the new electronic log restrictions in the United States, growers and shippers are looking more to ocean transportation than they have for years, and we see this trend continuing to grow," says Sharp. "With only a three-day transit from most Mexican ports, we can provide savings for customers delivering into the Florida and Southeast markets."
The expansion also led to another significant achievement in February, when the port received its first shipment of bananas in almost 30 years. Growth in fruit imports has further increased since then, with the port currently moving Malanga Coco, limes and mangos through the facility from Mexico, and in late September, it received pineapples from Costa Rica.
Port of Charleston Gets Serious About Fruits and Vegetables
The majority of fruit and vegetable imports coming into the East Coast have traditionally been routed via Northeast ports, such as PhilaPort, the Port of New York and New Jersey and PortMiami. However, the Southeast has quickly become the fastest growing region for imports in the United States.
In fact, over the last seven years, the Port of Charleston's reefer business has grown 86 percent, from 31,512 total reefer containers in 2011 to 52,395 total reefer containers in 2017. In total, all containers saw growth from 797,579 in 2011 to 1,231,661 in 2017.
The size of vessels coming to the Southeast also continues to increase. Vessels with 14,000 to 15,000 TEU capacity regularly make calls on the East Coast, and the Port of Charleston anticipates handling 18,000 TEU vessels within the next 6-12 months.
 "We've seen significant growth of our cold chain business in recent years, supported by the expansion of local private blast freezing and cold storage capacity," says Erin Dhand, manager, corporate communications and community affairs at the South Carolina Ports Authority (SCSPA). "Barring any unforeseen market impacts, we expect growth to be on par with the last few years and will continue to outpace reefer growth across South Atlantic ports. We're working to grow import fruits and veggies, as well as export protein volumes, and targeting additional investments in local cold storage capacity to meet that growth."
In terms of on-terminal infrastructure, Dhand says the Port of Charleston invested in eight reefer racks at the Wando Welch Terminal and approximately 1,800 total reefer plugs between Wando and North Charleston Terminals.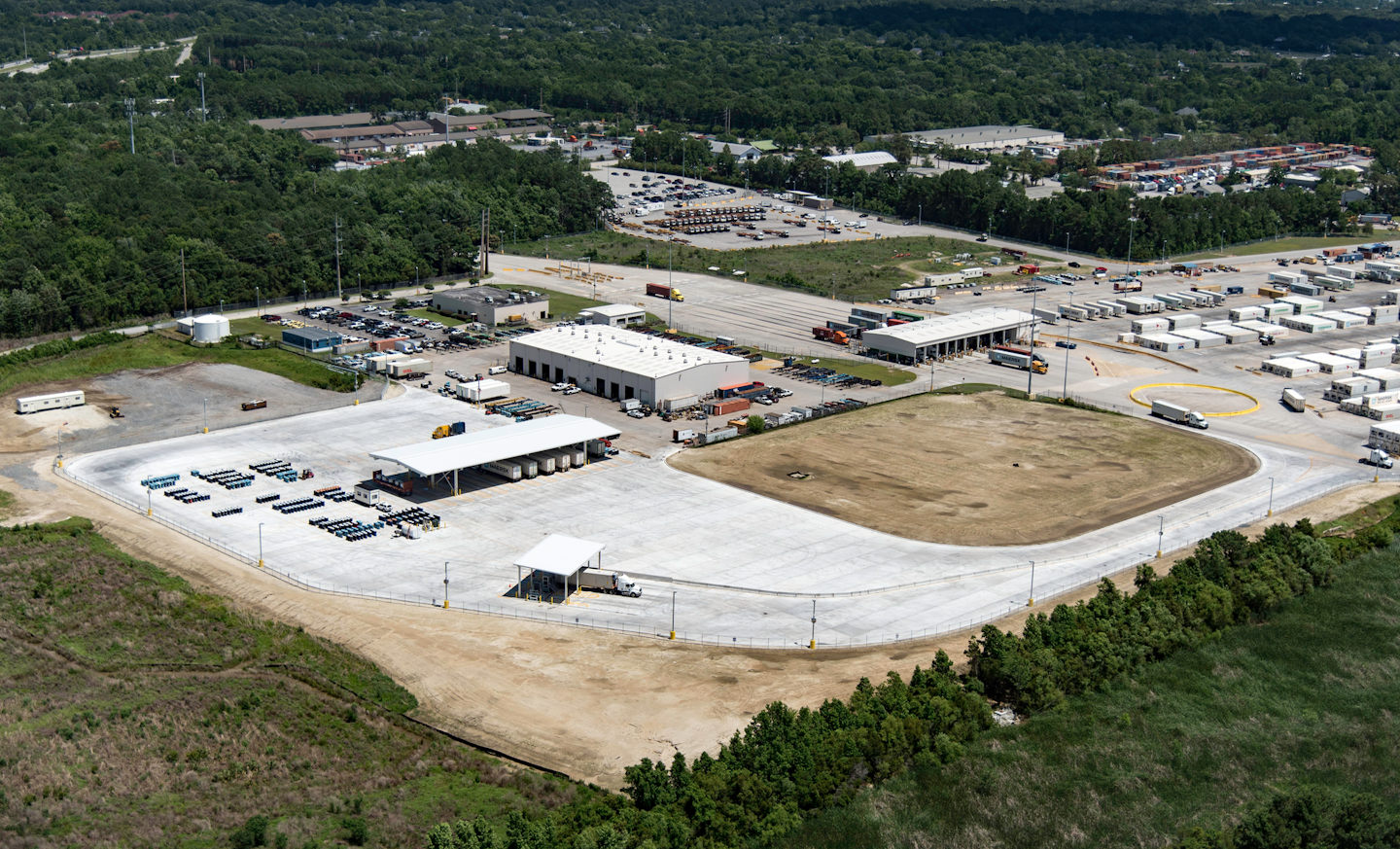 The Port of Charleston completed a new 6-acre refrigerated container service area in May.South Carolina Ports Authority

In May 2017, the port also completed a new refrigerated container service area. The 6-acre development allows for a self-contained tenant operation and includes a 12-lane service canopy to attach refrigerated container gen-sets, on-site storage and staging/fueling of gen-sets, and a three-lane wash station operation that utilizes a hydraulic access gangway system for safe access for personnel washing out refrigerated containers.
In addition, dredging began in February 2018 to deepen the port's channel to 52 feet and the entrance to the channel to a depth of 54 feet, as well as enlarge turning basins. When complete, the Port of Charleston will the deepest harbor on the East Coast.  
Follow Wunderlin on Twitter.