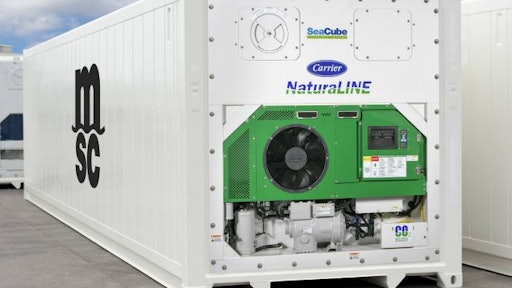 According to Drewry's latest forecast, global seaborne reefer trade will continue its moderate growth over the next five years. The sector remains a bright spot for ocean carriers and other transportation providers due to its ongoing growth combined with premium rates (compared to dry freight). 
In turn, ocean carriers, particularly containerized carriers, and others are investing in new reefer equipment. Here are some highlights of recent purchases:
Earlier this year, Ocean Network Express (ONE) ordered 14,000 reefer containers, with 2,100 of those units equipped with the latest controlled atmosphere (CA) technology, which slows down the respiration and ripening process to maximize the shelf life of fruits and vegetables. The new reefer containers were added to ONE's fleet in time for high season.
ONE was formed in July 2017, integrating Japan's top three carriers—K Line, MOL and NYK. Although ONE had a sizeable reefer fleet at its inception, the recent purchase strengthens its market presence in major reefer markets such as North and South America, South Africa, Europe, the Mediterranean, Intra-Asia and Oceania.
Hapag-Lloyd announced in August an order of 11,100 reefer containers, which will be added to the carrier's existing fleet of 91,000 reefers. Two-thousand of the new reefers will come equipped with CA technology as well as optimized power control to reduce energy consumption.
While temperature-controlled food products will be a key cargo segment for the new reefers, Hapag-Lloyd is also targeting high-value temperature-sensitive pharmaceuticals.
At the same time, the carrier is continuing to focus on East Africa's growing market, particularly Kenya, which not only exports coffee and tea, but also fruits and vegetables.
MSC plans to lease 2,000 Carrier Transicold NaturaLINE reefer containers from SeaCube Containers to supplement its fleet. The NaturaLINE refrigeration system uses repurposed CO2, the refrigerant with the lowest global warming potential (GWP) among all container refrigerants used currently. The reefer containers' ability to reach the deep-frozen range of 40 degrees Celsius allows MSC to offer beneficial cargo owners (BCO) expanded options, particularly for the transport of seafood and other high-value frozen commodities.
"Moreover, shipping is already one of the most environmentally sustainable forms of cargo transportation, and we are pleased to continue to improve our environmental performance by equipping our fleet with the latest green technologies," notes MSC's Giuseppe Prudente, chief logistics officer.
During last month's Asia Fruit Logistica, CMA CGM unveiled the most advanced active CA technology to date, called CLIMACTIVE, which quickly reduces the oxygen level inside reefer containers transporting highly sensitive fruits and vegetables. CLIMACTIVE was developed by DAIKIN for commodities that require special attention due to their biological specifications and maturation time, such as high added-value products, products undergoing a long transit time and organic products.
According to CMA CGM, "this technology allows businesses to optimize their competitive attractiveness by maintaining the products' freshness up to final destination, preventing the maturation process, extending shelf life and preserving the products' quality attributes. It also allows businesses to expand by reaching farther destinations and targeting new markets."
In addition, it allows businesses to maintain their products' organic certification because it helps avoid the application of pesticides during the ocean voyage.
Finally, on the rail side, Union Pacific (UP) confirmed plans last month to procure at least 1,000 high-tech refrigerated boxcars, or up to 1,600 if needed, which would mark one of the largest equipment acquisitions in the company's history.
According to a report in The Produce News, the Idaho potato industry relies heavily on rail to transport potatoes to major markets such as Chicago and the Northeast, and the purchase of the refrigerated boxcars would help UP continue to support this business.