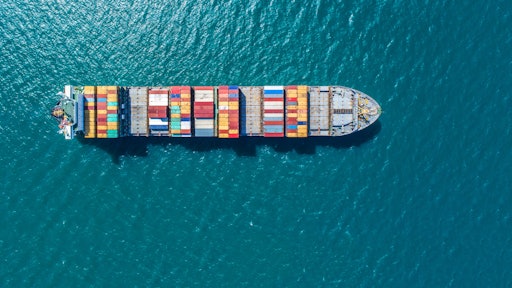 Blockshipping, a Danish start-up founded by Peter Ludvigsen, whose decades-long career includes 8 years combined experience as chief information officer for Maersk Line Europe Region, UASC and Ports America, is developing a blockchain-based platform that can track all the world's ocean containers—about 27 million of them—while simultaneously lowering costs across the supply chain and reducing CO2 emissions by at least 4.6 million tons annually.
The company is in the midst of building its Global Shared Container Platform (GSCP), which will provide a complete blockchain enabled container asset registry, similar to a ship registry, to provide real-time locations of every single container in the world.
Within the first few years, Blockshipping's goal is to establish itself as the primary blockchain registry and operational payments platform for the global container fleet. Three to four years out, the company estimates it will reach 60 percent coverage of the entire global fleet (about 16 million containers) using the GSCP registry.
In addition, the company says its vision for the GSCP is to become the primary platform for managing operational payments clearing between stakeholders related to physical handling (interchange), haulage and sharing of containers; serve as the shipping industry's primary IoT platform for real-time tracking of containers enabling real-time visibility of containers to all stakeholders; and monetize data insights based on machine learning, the Internet of Things (IoT) data, artificial intelligence (AI) and blockchain data.
Stakeholders, including carriers, beneficial cargo owners (BCOs), terminal operators and transportation companies, can collectively save $5.7 billion annually as a result of reduced container inventories based on real-time information exchange, along with real-time visibility and blockchain enabled smart contracts that automate processes and payments between parties, the company remarks.
Indeed, carriers could be among the biggest winners when it comes to cost savings, explains Blockshipping in its whitepaper, The GSCP ICO, published in May. For example:
Greybox opportunity. Carriers miss out on huge annual savings in empty container repositioning in the amount of $3 to $5 billion because of a lack of a trusted platform where deficit/surplus matching of containers can take place. The idea of providing a shared pool of generic containers to the carrier community, a concept referred to as greybox, is generating more buzz lately due to the significant costs carriers face to reposition containers where they're needed. Seasonal swings associated with fresh produce imports and exports have long plagued reefer BCOs and carriers, while general trade imbalances only exacerbate repositioning costs.
Reduced carrier haulage ratios. Carriers have consistently lost out on carrier haulage, leaving others to profit on merchant haulage.
Street-turn/Triangulation opportunity. Due to lack of a neutral trusted platform, triangulation and street-turn cost savings opportunities for carriers in the range of $750 million annually are not being realized. Typically, containers move back and forth between shippers and container terminals, and consignees and container terminals. A more efficient "triangular" pattern would have shippers transporting loaded containers to the container terminal, which would then deliver goods to consignees, then have consignees transport empty containers straight back to the shipper for re-use, rather than transporting the empty container back to the container terminal.
Container fleet reduction opportunity. Due to lack of real-time tracking and sharing of container locations, global container carriers have inflated container inventories, which could be reduced by 15 percent to 20 percent if location data on containers were shared and had real-time tracking sensors installed
Opportunity for banks and global leasing companies. Banks, leasing companies and insurance companies have realized significant losses in connection with bankruptcy or impending defaults of global container carriers. According to industry experts involved in financing investments in containers, 10 percent to 15 percent of containers are lost in connection with financial distress of carriers due to the lack of real-time tracking of dry containers. With GSCP, financing and asset insurance cost of containers can be reduced due to improved surety and real-time certainty of actual locations of containers at any given time.
A Radical Funding Model
A major component of Blockshipping's business proposition is the launch of an initial coin offering (ICO) for the GSCP platform.
According to Blockshipping, "an ICO is a new and alternative funding model, often compared with crowdfunding, to supplement—and sometimes replace—more traditional buying methods, like venture capital funding, for start-up companies."
Furthermore, Blockshipping's ICO will be the first of its kind to be based on The ICO 2.0 Framework. The framework was developed by a Danish group of legal experts, blockchain experts and communication and PR experts to establish best practices and give recommendations in four areas: law, code, security and communication.
In its whitepaper, Blockshipping acknowledges that 2017 "was a wild year for ICOs all over the world," and while everything seemed possible, "critical thinking was often weakened or anaesthetized."
Frankly, some ICO projects should have never been started, the company says, either because the projects and the companies behind them didn't offer much value, or "because they simply did not worry about complying with applicable laws or behave in a responsible, ethical manner."
Therefore, adhering to the best practices set forth in The ICO 2.0 Framework are a way of instilling confidence in investors.
What's next? Blockshipping says it's in negotiations with several large carriers about joining the platform and expects to release an announcement soon. The company is also holding discussions with a container leasing and sales company in Asia where the GSCP platform will be leveraged to support real-time tracking of containers equipped with sensors.
In the meantime, Blockshipping expects to launch release 1.0 on Jan. 1, 2019, "meaning that transactions and revenue should start to flow from this date," says the company, adding that it will likely run the platform for approximately 18 months before break-even is achieved.