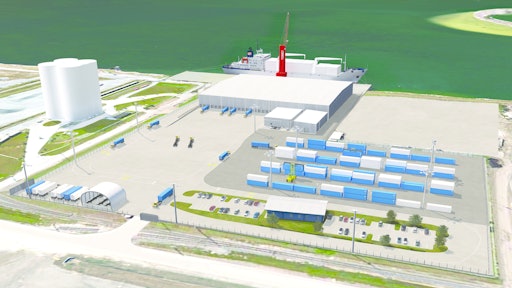 Truck, plane, train or ship—no matter how you move it—the safety of food must be ensured. And as the volume of perishable food, especially chilled and frozen cargoes, via ocean carriers continues to increase, both ports and carriers are making serious cold chain investments to do just that.
Maersk Line, which boasts the largest containerized fleet with about 20 percent of the global market, announced in 2016 it had ordered 14,800 new refrigerated containers, bringing the average age of its reefers to 7.9 years, over four years younger than the industry average.
The shipping line's new containers replace old containers in part, and coupled with 2015's order of 30,000, bring the company's reefer capacity to 270,000.
The containers also include Internet of Things (IoT) technology to enhance in-transit visibility, which the company hopes to expand to the entire fleet by the end of the year, alongside a customer-facing platform.
All the Bells and Whistles
Many of the world's largest ocean carriers are continuously adding refrigerated containers to their fleets, making the transport of fresh, frozen and chilled cargo less risky, as consumers demand more. Shippers have shifted to steamship as the ability to manage and track locations and temperatures in containers has improved. Controlled atmosphere and other innovative technologies are helping keep perishables safe, as well as state-of-the-art equipment that keeps cargo fresher and stable on long voyages.
Maersk's standard (20 and 40 foot) refrigerated containers are equipped with many technological advances, which include:
Super Freezer technology, which provides temperature management down to -76°F/-60°C, ensures that frozen cargo shipped in Super Freezers always arrives in exceptional condition and retains its premium value.
StarCare and StarFresh provides controlled atmosphere service for a better quality product and a prolonged shelf life for a wide range of chilled commodities.
Magnum reefer technology, which is able to accurately maintain -31°F/-35°C.
Cold Treatment Service for countries that require special treatment of chilled produce before entering their borders or port facilities.
Additionally, at Cool Logistics Global 2015, Maersk announced that all of their 270,000 refrigerated containers worldwide had been outfitted with IoT tracking solutions.
What began as a small project has become an operational division within Maersk Line, assuring 24 hour coverage of all refrigerated containers, leading to optimizations in maintenance, compliance, quality and more.
But Maersk isn't the only main player integrating cold chain solutions into the ocean sector. ORBCOMM Inc., a leading global provider of Machine-to-Machine (M2M) and IoT solutions, has developed a so-called smart container, which they say "fills the vessel traceability gap and enables seamless management of refrigerated containers across road, rail, water, ports and yards."
TOTE Maritime Puerto Rico, a shipping carrier specializing in moving cargo between the U.S. mainland and Puerto Rico, is the first inline shipping company in North America to utilize ORBCOMM's GSM-based VesselConnect solution to remotely manage its fleet of smart refrigerated containers at sea. Using ORBCOMM's telematics solution, TOTE Maritime is able to monitor and control its refrigerated container fleet transporting temperature-sensitive, high-value goods—such as pharmaceuticals, cosmetics, food and candy—along the cold chain from point of origin to destination.
ORBCOMM's VesselConnect also allows TOTE Maritime to receive critical data from its containers, including reefer status, temperature and slot location, while on the vessel or on shore through any Internet-connected device. TOTE Maritime can adjust reefer set points and conduct pre-trip inspections on-board, reducing manual labor and expediting cargo distribution on land. In addition, the system provides precise temperature monitoring capabilities and records needed for compliance with the FDA's Food Safety Modernization Act (FSMA) regulatory requirements.
"By deploying ORBCOMM's VesselConnect solution, we have access to comprehensive, real-time information about our refrigerated sea containers that enables us to not only maximize the safety and efficiency of our supply chain operations, but also better serve our customers," said Jim Wagstaff, vice president of operations, TOTE Maritime Puerto Rico, in a news release.
VesselConnect further enhances safety by eliminating the need to manually check the temperature status and condition of reefer containers. If an alarm occurs, it will be automatically displayed on a console, and an engineer can be promptly sent to check and resolve any issues. The system also identifies non-performing equipment, so shore-based staff can be alerted in advance that repairs are needed.
"As shipping lines move to the increased use of GPS and GSM-enabled containers, they need to fill the traceability gap on vessels at sea, and ORBCOMM's VesselConnect solution provides end-to-end visibility of refrigerated container operations," said Marc Eisenberg, ORBCOMM's CEO in a news release.
Investment in Infrastructure
The safety of perishable goods also is connected to the logistics on land as ocean carriers come into port. Many ports are looking to establish cold storage facilities on sight to attract carriers, while others are ensuring food safety through alternate methods.
In October, Port Tampa Bay announced the addition of a 132,000-squre-foot cold storage warehouse that will handle refrigerated import and export cargoes. Port Logistics Refrigerated Services will operate the facility, which is scheduled to open this fall.
Built on a 13.7-acre site at the port, the facility will accommodate both chilled and frozen products and ensure Central Florida's future as a hub for importing and exporting refrigerated products.
Tampa Bay and the surrounding area is one of the fastest growing regions in the United States in addition to the 78 million tourists visiting Florida each year. The Port of Tampa Bay also is situated less than 50 miles from Polk County, where more than 8 million square feet of warehouse and distribution facilities are located. Those facilities are taking advantage of not only the growing population and its demand for fresh food, but also the huge amount of tourists who consume these goods.
Rick Sharp, vice president of business development and operations at Port Tampa Bay, says it makes a lot more sense—not only from a cost standpoint, but for the safety of that cargo—for ocean carriers to hit that market through Port Tampa Bay, versus trucking the cargo from hundreds of miles away.
"A lot of the fruits and vegetables coming into the United States are brought into the Northeast and trucked back down south. From a cost standpoint, we feel we can do it cheaper coming through Tampa," explains Sharp.
"(In the future), I see container lines looking at different routes and trade lanes to hit those huge DCs (distribution centers), instead of trucking hundreds of miles from other ports into those DCs. Coming through Tampa definitely makes economical sense and reduces the risk," he adds.
And Port Tampa Bay's state-of-the-art cold storage facility will play a large role in attracting those carriers. In addition to 19,000 square feet of cold storage, the facility features a 7,200 square foot climate-controlled fumigation building attached by awnings, so Sharp says "you are not breaking the cold chain by coming out of the cold storage and going into the fumigation room."
Unique to any water front facility, the port's addition will be completely ammonia-free, meaning the building will use a Freon gas in the engine room and pump a food grade glycol throughout the facility. Sharp says he is unaware of any other port in the United States that utilizes this technology.
Removing the use of ammonia in the cold chain plays a crucial role in protecting food, as not only is ammonia very dangerous and harmful to humans if inhaled, but if the facility had a pipe burst and ammonia were to get on the product, it would be destroyed.
"With a food grade glycol system, it is not harmful to humans nor is it harmful to the product. From a safety standpoint, preserving the food and protecting it from any type of contamination is another serious thing we took into consideration (when planning the facility)," says Sharp.
Another unique feature to the facility is its interval gravity fed racking system, which is 20 pallets deep. When you put a pallet in on one end, it gravity feeds itself all the way to the other end, guarantying first in, first out, which keeps the quality control for the customers at a priority because the first pallet that comes in has to be the first pallet that comes out.
Additionally, Port Tampa Bay has taken extra precaution with its loading dock, which can be broken up into section depending on temperature requirements.
"Once we get a container backed up to the facility, that product will never break the cold chain," emphasizes Sharp. "The biggest risk you have (in moving perishable goods) is the transportation, but once that product is put in the container and the temperature is set, the risk is really low unless there is a mechanical failure."
Sharp adds that to prevent such risk, Port Tampa Bay takes its partnerships very seriously.
"We definitely take precautions with anything that we are able to handle or control, so we are going to make sure we partner up with companies who have newer equipment, such as tracking devices, so we can get real-time information—whether its GPS location or how the reefer units running," Sharp says, adding, "Food safety is definitely important, and now with areas of the Food Modernization Safety Act that just went into effect in April, there are a lot of eyes on the product to make sure that the cold chain is not broken."
While many ports across the United States are investing in cold storage, at Port of Los Angeles terminals, there is an emphasis on reefer containers in the yard, says the port's cargo marketing manager Marcel van Dijk.
"The reefers are plugged in as soon as they arrive on the terminal, either from the water or from the land. These reefer containers have individual plug-in stalls and are monitored by terminal labor on a regular basis to make sure there are no changes in temperature in the container," he adds.
The Port of L.A. has a total of 5,337 reefer plugs spread out over eight container terminals.
When those reefer containers are released they go to local cold storage in the L.A. basin or directly to the distribution centers. There is no cold storage on Port of L.A. property.
Lee Peterson, communications director at the Port of Long Beach, notes that because they are a landlord port they do not directly handle cargo—refrigerated or not—but they are interested in providing the facilities and services that would allow the port to capture additional business in the cold chain.
"We are not directly tasked with guaranteeing food safety, neither as a regulator nor as a shipper," Peterson continues. "It's really up to those experts to make sure that they are complying with food storage regulations, meeting the needs of customers for food delivery, but we do provide the facilities that help us to compete to be the port through which those companies move the cold cargoes."
Some of those efforts include the addition of 6,000 dedicated spaces at Port of Long Beach terminals for reefer boxes, as the port works to provide those facilities to our tenants, the terminal operators.
Peterson adds that additionally modernization is part of their overall strategy. This includes adding rail infrastructure to enhance efficiencies in the rail system to maximize their ability to provide "on-dock rail" to their terminals.
"Due to the weight requirements of many temperature-controlled cargoes, such as frozen proteins, much of the cargo moving from the Midwest requires rail-hauling directly to terminals for export," he concludes.
Companies in this article