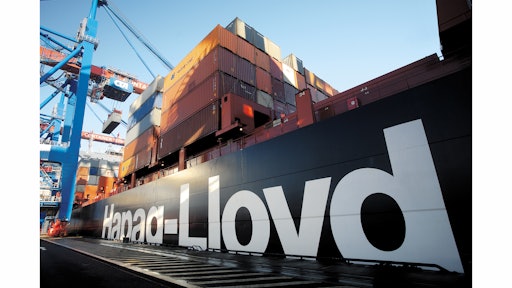 German container shipping line Hapag-Lloyd AG has agreed a merger deal with United Arab Shipping Company (UASC), creating a group with an estimated value of 7 to 8 billion euros ($7.7 to 8.9 billion), as both seek to weather a market downturn, according to Reuters.
Hapag-Lloyd said its supervisory board had approved the deal, which would see it take all shares in Kuwait-based UASC, majority-held by the government of Qatar. Hapag-Lloyd's anchor shareholders and UASC shareholders still need to give consent.
A general meeting of UASC will be held in Dubai on June 29, Hapag-Lloyd said in a statement.
Hapag-Lloyd shares were up by 3.4 percent at 18 euros at 1455 GMT, easing from an earlier high of 19.2 euros.
Container shipping has seen a wave a mergers and acquisitions, particularly in Asia, as companies try to grab a bigger share of a depressed market. The industry is suffering its worst downturn since its origins in the 1950s and 1960s due to a combination of weak consumer demand and overcapacity
Plans for the deal were unveiled in April. It received backing by UASC shareholders earlier this month.
Hamburg-based Hapag-Lloyd initially said talks were based on its shareholders owning 72 percent of the combined business.
In a presentation to analysts last month Hapag-Lloyd placed itself fifth globally in terms of carrier capacity, and UASC in eleventh place.
A merger would consolidate the group's combined 5th place and get it much closer to the number four - COSCO Container Lines [COSCO.UL] - according to the presentation.
To read more, click here.