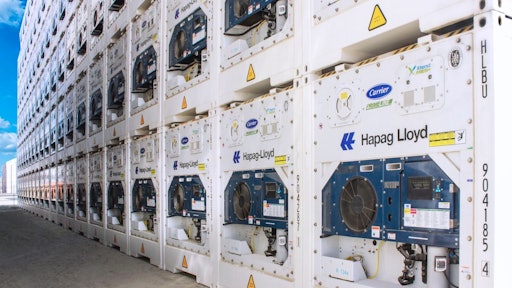 While containerized ocean carriers continue to battle historically low rates and falling revenues, the reefer segment remains buoyed by growing global demand for perishable foods, both in developed and emerging economies. For that reason, carriers are investing in their reefer fleets to meet current and future demand.
Hapag-Lloyd added 3,000 PrimeLINE reefer units to its fleet this year, with 1,000 of the units equipped with Carrier Transicold's XtendFRESH controlled-atmosphere system.
According to Carrier Transicold, "The XtendFRESH system actively manages oxygen and carbon dioxide (CO2) levels within refrigerated containers, and removes ethylene, thus slowing the ripening of produce and helping to preserve produce quality beyond what refrigeration alone can do. Hapag-Lloyd's order is the largest for the XtendFRESH option since its inception in 2013. The PrimeLINE units were installed on 40-foot high-cube containers Hapag-Lloyd purchased for fleet replacement and expansion."
The ocean carrier's head of container steering, Niklas Ohling, says the new reefers "improve our capabilities with sensitive fruits and vegetables by helping to ensure optimal produce quality for our customers." He adds, "As shipping patterns change, bringing longer routes, our investment in controlled-atmosphere technology will provide dividends for our customers by maintaining quality for produce, such as bananas and mangos, over extended shipping times."
The reefer units purchased by Hapag-Lloyd also are energy efficient, states Carrier Transicold. "The PrimeLINE units use an advanced digital scroll compressor to deliver more cooling capacity using less energy than prior models from Carrier Transicold. The PrimeLINE units also provide pulldown that is up to 15 percent faster than its nearest competitor and as much as 30 percent faster than others."
Innovations in controlled-atmosphere technology also are helping reduce food waste.
Jon Shaw, director of sustainability and communications at Carrier Transicold, notes, "By maintaining precise conditions to optimize quality for specific commodities, the XtendFRESH system will help Hapag-Lloyd's customers reach new markets through extended shipping distances." In addition, "The system also helps to prevent premature ripening, which aids in reducing food waste through spoilage, resulting in a more efficient cold chain."
Another German ocean carrier, Hamburg Süd, is using the XtendFRESH controlled-atmosphere system in its reefer units to optimize fresh avocado shipments from South America to the Port of Rotterdam in the Netherlands for Nature's Pride, a European exotic fruit importer.
Rogier Rook, logistics manager at Nature's Pride, says, "We tested XtendFRESH quite extensively. It was a nice collaboration between ourselves, Carrier, Hamburg Süd and our growers."
During the ocean voyage, avocados are kept cool, while the XtendFRESH system manages oxygen and CO2 levels. As the avocados consume oxygen through respiration, it is maintained at lower levels to reduce further respiration and delay ripening. Elevated CO2 levels are maintained to delay softening, while ethylene produced by the avocados inside the reefer container also is removed to delay ripening.
Once the avocados arrive at the Port of Rotterdam, they are transferred to Nature's Pride's ripening facility in Maasdijk in the Netherlands.
"The amount of detail that goes into the process upon arrival here is extreme," Rook says. "Besides the ripening, there is sorting and repackaging, so this is really a complex process. And we try to give our clients at least a week of shelf life on these products."
Japanese container manufacturer Daikin confirms, "Temperature control remains the No. 1 transportation requirement for maximizing the quality, safety and shelf life of fresh produce. But controlled-atmosphere [technology], which effectively puts fresh commodities to sleep in transit, will also play an increasingly important role over the coming years to support expanding container trade in high-value, sensitive fruits and vegetables, both for global and regional markets."
For example, fresh fruits and vegetables are responsible for 70 percent of the strong growth in intra-Asia perishables trade over the past five years, according to Seabury Maritime, and this segment heavily relies on controlled-atmosphere technology for leafy greens and other sensitive commodities.
"Another factor impacting the need for controlled-atmosphere [technology] is the shift in global container shipping operations, including increased vessel sizes, slow steaming and transshipment-based networks," Daikin states. "These developments help the shipping industry maintain its service and open up markets for fresh produce exporters worldwide, but also lengthen supply chains. Protecting and extending the life of perishable cargoes with technologies, such as controlled atmosphere, therefore, becomes increasingly important."
Continued Growth on the Horizon
The compounding effects of rising global demand for fresh food, ample capacity of reefer containers, low shipping rates and increasing sophistication of controlled-atmosphere technology are supporting growth of the global refrigerated container market, which is expected to reach $3.25 billion in 2020 from $2.13 billion in 2015. Market volume of refrigerated containers is forecast to reach 3.46 million 20-foot equivalent units (TEUs) by 2020 at a compound annual growth rate (CAGR) of 6.7 percent.
Allan Klinge, vice president and sales manager at Klinge Corp., says he is seeing growing demand for specialty reefers, such as tank container equipment, explosion-proof equipment and dual-redundant reefer systems.
"While the market for standard reefers will surely rebound, the specialty market appears healthy, even in the face of the recent downturn, as safety requirements will continue to be enforced and increased," he explains. In addition, "The reefer/heating tank market also continues to grow as investors develop better methods of bulk liquid transport and distribution."Klinge's refrigerated tank containers cool the tank's cargo by circulating brine or synthetic oil around external cooling coils in the tanks. The system is used to transport food products and beverages, along with other types of cargo.
The demand by customers for temperature monitoring is driving interest in Global System for Mobile Communications (GSM)- and satellite-based options, adds Klinge, who notes that the company currently is working with a partner on a dual version in which the satellite would be used when a GSM/cellular connection is not available.