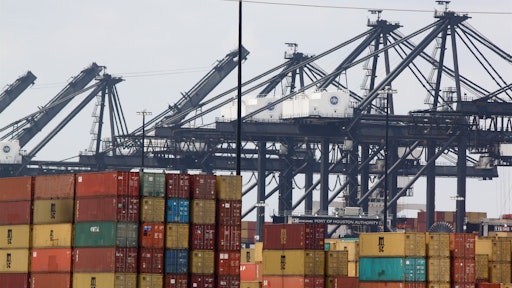 The Panama Canal expansion took nearly a decade and cost $5.4 billion. It opened in June, doubling the canal's capacity with a third lane designed with larger locks, making it possible for post-Panamax ships, carrying up to 14,000 TEUs, to readily traverse the 102-year-old canal.
All eyes are fixed on what's going to happen now. The question on everyone's mind is: What kind of cargo share increase might the East Coast and Gulf Coast ports actually see now that the long-awaited Panama Canal locks have opened?
If studies by Parsons Brinckerhoff and A.T. Kearney are to believed, the opening of the new Panama Canal locks will boost both East Coast and Gulf Coast cargo traffic. While these studies forecast that 50 percent of the traffic moving through the enhanced canal will be destined for East Coast ports, Gulf Coast ports stand to win an increased share of cargo as well, with forecasts predicting a 12 to 15 percent uptick in cargo, equal to 5 million TEUs over the next 10-plus years.
The increases in the Gulf were anticipated and planned for, especially among the ports of Houston, Mobile and New Orleans; three major players that stand to be impacted the most by the Panama Canal improvements. Studies predict as container shipping lines adjust their schedules and services to include post-Panamax ships, Gulf ports' cargo share will increase by 7 percent in 2017, then level off to an annual growth of 3-4 percent a year throughout 2028.
Robert Landry, vice president-commercial at the Port of New Orleans, expects to see increases in line with what studies have predicted at this deep-draft multipurpose port, and for Gulf ports in general.
"There is consistency in saying we're going to see increased containerized cargo throughout the expanded Panama Canal," he says. "A good portion of that cargo is going to be destined for population centers on the East Coast. However, what we anticipate—and what the studies seem to verify—is that Gulf ports will see cargo increases in the range of 8-12 percent, then will level off to more normal growth rates."
He adds the predicted increases are in addition to the ones Gulf ports have already seen in recent years. Problems with shipping congestion and labor disputes in West Coast ports shifted imports bound for the eastern part of the United States to East and Gulf Coast ports. Today, these ports receive approximately 34 percent of containerized imports from Asia, compared to 29 percent two years ago.
"We knew all of this was coming; our customers told us it was coming, our carriers told us it was coming," adds Judith Adams, vice president-marketing for the Alabama State Port Authority in Mobile, Alabama. "We knew that meant bigger ships and more capacity on those ships, meaning a cost competitive price point per box on those Far East services. But it was the periodic disruptions on the West Coast, whether due to congestion or labor issues, that really opened up the East Coast and then ultimately the Gulf Coast."
Landry agrees noting, "What we've learned over the last few years is that shippers get very nervous about uncertainty; and they've been burned a couple of times by activities on the West Coast. I think they're at the point where they are spreading their business across more than one port and making sure they have options if those things ever happen again."
Positioned for Growth
The Panama Canal's new locks measure 1,200 feet by 160 feet, making it possible for them to accommodate ships carrying approximately 13,000 TEUs and drawing up to 50 feet of water. In contrast, current Panamax vessels have a 4,500 to 5,000 TEU capacity and a maximum draft of 39.5 feet.
Managing these larger vessels required affected ports to make more than a few improvements. In fact, it is estimated that East and Gulf Coast ports spent approximately $150 billion on port improvements that included dredging for deeper harbors, expanding terminals, and improving rail and road connections to docks, according an article by the Midland-Reporter Telegram.
Food Logistics takes a closer look at how three key Gulf Ports readied themselves for a surge in cargo traffic on neo-Panamax ships.
Port of Houston: Considered one of the world's busiest ports, studies at the Port of Houston have projected up to a 15 percent boost in activity by 2020, much of which will be driven by the expanded Panama Canal. The port, which handled 68 percent of the total U.S. Gulf Coast container traffic in 2015, readied itself for the long-awaited opening of the new Panama Canal through a billion-dollar plan to upgrade its infrastructure to attract post-Panamax ships. As part of this effort, this busy Texas port purchased nine new cranes for the terminal and dredged its channels to accommodate the larger vessels.
At the onset of 2016, the port authority committed approximately $300 million for various capital projects including continuing development of Bayport Container Terminal, and the modernization of Barbours Cut Container Terminal, channel development projects, improvements at the general cargo and bulk terminals in the Turning Basin area, railroad improvements, port security, building renovations and information technology upgrades.
These commitments continue efforts that began in 2015. In September 2015, crews completed the deepening and widening of the Barbours Cut channel, matching the Houston Ship Channel's authorized depth of 45 feet. The Bayport channel dredging is scheduled for completion yet this year. With an uncertain federal appropriation process in place and funding for it expected to take 10 years, the Port Authority funded this $80 million dredging project in its entirety.
Also in 2015, the Port Authority commissioned the first of four new Super Post-Panamax ship-to-shore (STS) cranes at the Barbours Cut terminal. These cranes have the capacity to move a loaded container twice as fast as their predecessors. The 30-story electric cranes are the largest ever constructed by Konecranes, and currently stand taller than any other marine cranes in North America.
Port of Mobile: The Alabama State Port Authority owns and operates the State of Alabama's public, deep-water port facilities at the Port of Mobile. The authority's container, general cargo and breakbulk facilities have immediate access to two interstate systems, five Class I railroads, and nearly 15,000 miles of inland waterway connections "The Alabama State Port Authority has been investing in post-Panamax infrastructure since 2005," says Adams. "Our lower harbor, before the opening, handled the larger ships calling the European trades. Our container terminal, our steel terminal, and our coal terminal all have berths and cranes that can service those ships."
Not only that but in 2010, the U.S. Army Corps of Engineers and the port authority completed a new turning basin that allows vessels up to 1,600 feet in length to turn in the port. "We currently have a year-round 45-foot draft channel as well," Adams says.
The port authority and APM Terminals partnered in 2005 to construct Phase I of the container terminal at Choctaw Point to provide customers with access to global networks covering all possible trade routes to and from the Port of Mobile. Under the concession agreement, APM Terminals operates the terminal. In July, APM Terminals announced plans to add two Super Post-Panamax STS cranes and expand the container yard by 20 acres as part of a $40 million infrastructure investment to expand the terminal's capacity. These new cranes can handle ships with up to 22 containers across, while the two cranes already there are capable of handling ships with up to 18 containers across. "All of this will add capacity bringing them [APM Terminal] up to about 800,000 TEUs annual throughput capacity," Adams adds.
"Given our continued growth since the container terminal's opening in 2008, the timing of this expansion is excellent given more and more shippers and carriers are finding Mobile a cost effective, customer service oriented option," says James K. Lyons, chief executive of the Alabama State Port Authority.
APM Terminals' expansion will compliment approximately $50 million invested by the port authority to construct an Intermodal Container Transfer Facility (ICTF) that could be serviced by five Class I railroads, including Canadian National Railway, CSX Transportation, Norfolk Southern Railway, Kansas City Southern Railway Company and BNSF Railway. "What that intermodal rail ramp does, which Canadian National is now serving, is open up our markets into the Midwest, which are natural markets for us in a lot of the breakbulk, poultry and steel commodities, we serve in the Midwest," Adams says. "Trucking was all we had before May of this year. When we opened the ICTF, and Canadian National came in, we saw growth in the Memphis to Decatur to Chicago to Canada market."
The ICTF also expands some of the commodities that move via container, according to Adams, including frozen poultry. And if one of Wal-Mart's super distribution centers lands there (Mobile is a final contender for that), it will have further impact on the port's intermodal operations.
Port of New Orleans: The Port of New Orleans is considered the sixth-largest port in the United States based on volume of cargo handled and 13th-largest in the United States based on value of cargo. Container throughput in New Orleans is on the rise, climbing 7.4 percent year-over-year in 2015 to a record 537,000 TEUs. This growth was partly driven by a surge in agricultural exports. Boosting imports was the return of Chiquita brands, which relocated to New Orleans from Gulfport, Mississippi. It is reported that this move will bring another 50,000 TEUs to New Orleans terminals annually, from imports of bananas to Guatemala and exports of materials to Central America to package fresh fruits for shipment.
With all this going on, improvements simply made sense, especially when the Panama Canal expansion was factored in, says Landry. To prepare for additional cargo traffic, he says the port expanded its container terminal, adding an additional 84 acres in March and purchasing two additional container-handling gantry cranes. "We're capable of handling up to 10,000 TEU ships," he says. We moved approximately 530,000 TEUs last fiscal year, and we have the capacity to move approximately 800,000 TEUs, so we have room to grow."
In April, the port opened a $25 million ICTF, funded by a $17 million TIGER grant and $8 million in port funds, next to the Napoleon Avenue Container Terminal. Currently Canadian National is the primary user of the new facility; operating twice daily stack trains from the ICTF.
"The new intermodal facility services all Class I railroads that have intermodal services here," Landry says. "We're the only port that services all six Class I railroads, and in order to take advantage of that, we needed a more efficient intermodal yard. That is what we built, and I think we're going to benefit from that. We are seeing our volumes increasing and we believe as the volume of imports picks up, we'll see more of our activity move to rail."
The port has also started to shift some of its increasing volume to the waterway system. "We started a container-on-barge system between Baton Rouge and New Orleans, with a company called SEACOR," he says. "It takes a couple hundred boxes a week off the southbound transit system. We think that's a service that's going to continue to grow. There is increasing demand for services like this as highway congestion becomes an issue at every port in the United States."
One change they've seen is in breakbulk and container transports. According to Landry, when the port built its new cold storage facility a few years ago, approximately 80 percent of the frozen poultry moving through the facility was breakbulk. "Now approximately 80 percent of the frozen poultry moves in containers," he says. "But I just got a call yesterday from one of our customers who is moving goods in containers, and he is looking at shifting from containers back too breakbulk because container rates are starting to go up. That being said, I don't think we're going to stem the long-term tide of more product going into containers."
Port Canaveral Sees Increased Container Transport
The Canaveral Port Authority recently welcomed the start of StreamLine's Blue Stream weekly liner service at its new Canaveral Cargo Terminal, which GT USA manages and operates. The service adds Port Canaveral to this valued trade route that includes Central America, Europe and the Caribbean.
StreamLines, part of the Seatrade Group, is a diverse container line providing refrigerated and dry container service specializing in fresh produce and perishables. The launch of this service is part of the company's development plan and expands Port Canaveral's relationship with StreamLine's parent company Seatrade, which currently offers GreenSea specialized service calling monthly at Canaveral.

"This service validates our new terminal and Canaveral's cargo expansion with valuable central Florida logistics impacts," says Port Canaveral CEO John E. Walsh.
With five ships with 1300 TEU capacity and 250 reefer plugs, the weekly Blue Stream service will offer one of the fastest services from Florida to Europe at just 11 days and from Central America to Port Canaveral in three days. Port Canaveral is the exclusive U. S. port of call for this service.

Pablo Gonzalez, General Manager, StreamLines N.V., said, "We see Canaveral as an important transit point for refrigerated, dry and project cargoes between Central America, Florida and Europe.

According to Alberto Cabrera, Port Canaveral's Senior Director of Cargo Business Development, "This service will strengthen Florida's perishable import market from Central America and provide a Central Florida gateway to shippers seeking to lower inland transportation costs and to get their product to market faster. At the same time, it creates an efficient outlet for Florida shippers to export products directly to northern Europe."

Canaveral Cargo Terminal is Port Canaveral's new state-of-the-art facility handling multipurpose cargo and containers. GT USA is investing $100 million into facilities, infrastructure, equipment and workforce.