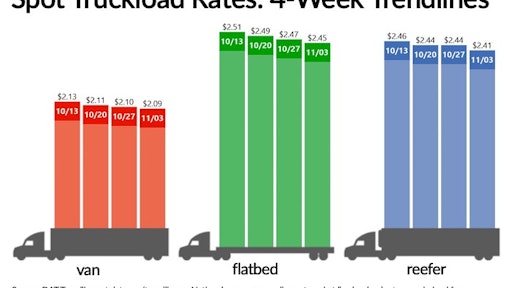 Surging imports at West Coast ports helped push spot load-to-truck ratios higher for van and refrigerated freight during the week ending Nov. 3, said DAT Solutions, which operates the DAT network of load boards.
The demand for trucks, combined with lower fuel prices, helped slow recent declines in the national average spot van rate. However, national averages for reefer and flatbed freight continued to drift lower despite tighter capacity.
National average load-to-truck ratios:
Van freight: 5.2 loads per truck, up 10 percent compared to the previous week
Refrigerated freight: 6.8 loads per truck, up 11 percent
Flatbed freight: 17.0 loads per truck, down 1.5 percent, in line with seasonal expectations
National average spot truckload rates:
Van: $2.09/mile, down 1 cent compared to the previous week
Reefer: $2.41/mile, down 3 cents
Flatbed: $2.45/mile, down 2 cents
While capacity tightened last week, it's up considerably month over month and year over year. During October, the number of available trucks on the spot market was 25 percent higher compared to September, and up 37 percent compared to October 2017.
Van Trendlines: The number of van load posts on DAT load boards jumped up 7 percent while truck posts dropped 4 percent last week. Rates were higher on 39 of the top 100 van lanes; 56 lanes were lower and five were neutral.
Los Angeles ($2.66/mile average, up 7 cents) keeps driving demand. The load-to-truck ratio was 12.2 last Friday and rates on two outbound lanes were especially strong: Los Angeles to Dallas ($2.51/mile) and Los Angeles to Denver ($3.21/mile) were both up 14 cents compared to the previous week.
Atlanta ($2.22/mile average, down 2 cents) may be the next market to reverse course, as volumes were lower compared to the previous week but firming up. Van demand and rates were lower virtually everywhere else.
Reefer Trendlines: The number of reefer load posts rose 6% while truck posts fell 4 percent nationally on the cusp of heavier shipping demand for holiday produce.
However, spot reefer rates were neutral in many major markets, including McAllen, Texas ($2.17/mile, up 3 cents), Los Angeles ($3.05/mile, unchanged), and Chicago ($2.98/mile, down 1 cent), and lower in Grand Rapids ($3.37/mile, down 10 cents), Philadelphia ($3.01/mile, down 9 cents), and Elizabeth, N.J. ($2.22/mile, down 4 cents).
Twin Falls, Idaho, to Baltimore gained 21 cents $2.54/mile, an indicator of long-haul reefer rates.
Flatbed Trendlines: Flatbed activity on DAT load boards slowed last week, typical of this time of year. Load posts fell by 4 percent, while truck posts decreased 3 percent.
Fuel: The price of diesel fell 1 cent to $3.34/gallon compared to the previous week. Spot rates include a fuel surcharge portion.
DAT Trendlines are generated using DAT RateView, which provides real-time reports on spot market and contract rates, as well as historical rate and capacity trends. RateView's database is comprised of more than $57 billion in freight payments. DAT load boards average 1 million load posts per business day.