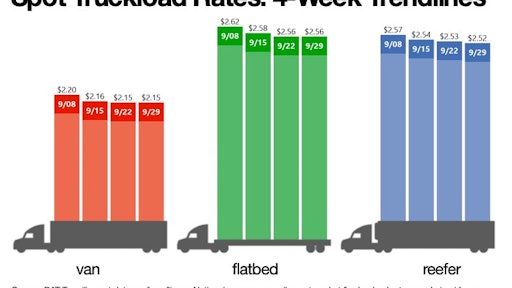 While the effects of Hurricane Florence could still be felt regionally, national spot truckload freight trends continued to stabilize and strengthen during the week ending Sept. 29.
The number of available loads on the DAT network of load boards increased 2 percent last week while truck posts fell 2 percent. National average spot rates were steady:
Van: $2.15/mile, unchanged from the previous week
Flatbed: $2.56/mile, also unchanged
Reefer: $2.52/mile, down 1 cent
Last week's van rate is 2 cents higher and the reefer rate is 3 cents higher compared to August averages. The flatbed rate is 8 cents lower compared to August.
VAN TRENDS: The number of van load posts on DAT load boards increased 4 percent and truck posts declined 3 percent. That resulted in a 7 percent increase in the national van load-to-truck ratio to 7.3 loads per truck. While van rates are generally 20 percent higher than year-ago averages, the biggest week-over-week declines were on lanes that spiked prior to Hurricane Florence making landfall.
Buffalo to Charlotte was down 24 cents at $2.44/mile
Atlanta to Charlotte fell 17 cents to $2.84/mile
Allentown to Richmond, Va., was down 20 cents at $2.88/mile
Those lane rates are still higher than they were before the storm.
REEFER TRENDS: Reefer volumes rebounded last week, thanks mostly to load counts out of the Midwest and, to a lesser degree, California. Reefer load posts on DAT load boards increased 3 percent while truck posts declined 2 percent last week, which resulted in a 5 percent increase in the load-to-truck ratio to 8.4 loads per truck.
Average rates were higher on 35 of the top 72 reefer lanes, with 32 lanes falling and four remaining neutral. Several significant lanes were higher, includuing Grand Rapids, Mich., to Philadelphia ($4.15/mile, up 13 cents) and Atlanta to Lakeland, Fla. ($3.43/mile, up 8 cents).
FLATBED TRENDS: The national load-to-truck ratio for spot flatbed freight was unchanged at 25.9. Flatbed load posts and truck posts were both down 1 percent compared to the previous week. That could change as rebuilding efforts continue in the Carolinas.
FUEL: The national average price of on-highway diesel jumped 4 cents to $3.31 per gallon. Spot rates include a portion for a fuel surcharge, meaning a change in fuel prices can affect overall rates.
DAT Trendlines is generated using DAT RateView™, an innovative service that provides real-time reports on prevailing spot market and contract rates, as well as historical rate and capacity trends. RateView's comprehensive database is comprised of more than $45 billion in freight bills in over 65,000 lanes. DAT load boards average 993,000 load posts per business day.