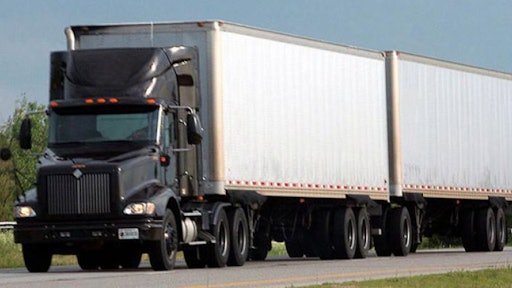 Disputes over whether lawmakers should allow larger trucks on the road has shook the industry as Congress asks the Department of Transportation to release all findings evaluating the impact of longer trucks, the Washington Examiner reports.
Increasing the national twin-trailer length from 28 feet to 33 feet would allow larger trails to be more efficient and would help address the driver shortage by holding at least 18 percent more freight. However, opponents of the ruling are warning possible safety hazards from longer trucks saying that it has the potential to damage infrastructure.
Currently, trucks hauling a single trailer is allowed to be 48 feet, a twin trailer would one trailer connected to a second one behind it.
According to the Washington Examiner, Ed Hamberger, president and CEO of Association of American Railroads claimed that taxes and fees imposed on trucks already on the road cover 80 percent of the damage caused to highways and that the taxpayers are forced to cover the remainder of the costs.
If the twin trailers were to expand, the freight rail network that is currently in place would be unsuitable to use, forcing the sector to spend billions just to accommodate them.
However, arguments were also made in favor of the longer trailers suggesting that they would reduce congestion and fuel consumption, alleviating damage to roads by placing fewer trucks on the street. AMT has said that if the longer trailer passes, it would help with the driver shortage and cut approximately 6 million truck trips per year.
The bill passed through the House Appropriations Committee's Transportation and Housing and Urban Development committee back in May and is now awaiting approval from the full House. Some states, like Florida, currently allow 33-foot twin trailer trucks on the road.
The dispute among the sector comes as lawmakers are trying to pass funding bills before the end of the month in order to avoid a government shutdown.
To read the full original article, please click here.