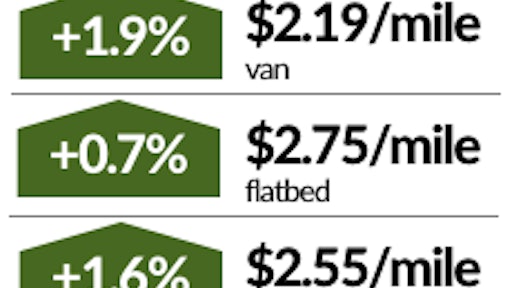 Demand outpaced capacity during the week including Memorial Day as the number of truck posts on DAT load boards dropped 18 percent while load posts fell just 9 percent. The scarcity of trucks during the shorter workweek, along with rising fuel costs, put pressure on national average spot truckload rates:
Van: $2.19/mile, up 4 cents
Flatbed: $2.75/mile, up 2 cents
Reefer: $2.55/mile, up 4 cents
VAN OVERVIEW: Van truck posts fell 20 percent—a more typical decline for a holiday-shortened week, but the number of van load posts was down just 3 percent. The national van load-to-truck ratio climbed 21 percent to 8.5 loads per truck.
Rates on the Top 100 van lanes increased 3.2 percent and are up 7.8 percent in the last month. Further, on a per-lane basis, rates were higher on 67 lanes compared to 28 down and five neutral.
Regionally, California and the Southeast were strong for spot van freight. Hot van markets included Atlanta, where outbound volume slipped only 2 percent compared to the previous week despite one less shipping day. The average outbound rate from Atlanta was $2.63/mile, a 9-cent increase. Los Angeles rose 12 cents to $2.81/mile; Dallas was up 10 cents to $2.23/mile; and Memphis gained 6 cents to $2.81/mile. Two key lanes to watch:
Houston to New Orleans, up 11 cents to $3.31/mile after a 25-cent gain the previous week
Philadelphia to Boston, up 22 cents to $4.18/mile
FLATBED OVERVIEW: The national flatbed load-to-truck ratio edged closer to 100 again last week. Load posts were down 12 percent; truck posts, on the other hand, declined 21 percent, which pushed the ratio up to 99.4 loads per truck.
REEFER OVERVIEW: Reefer load posts decreased 13 percent and truck posts fell by 11 percent. As a result, the national reefer load-to-truck ratio dropped 3 percent to 9.4 loads per truck.
Spot refrigerated rates continued to build after a strong run-up to Memorial Day weekend, led by demand in California. Los Angeles outbound averaged $3.43/mile, up 10 cents; Fresno was $3.09/mile, 14 cents higher; and Sacramento was $3.13/mile, up 16 cents. Key reefer lanes last week:
Fresno to Seattle, up 18 cents to $4.09/mile
Los Angeles to Denver, up 40 cents to $3.62/mile
Sacramento to Denver, up 37 cents to $3.16/mile