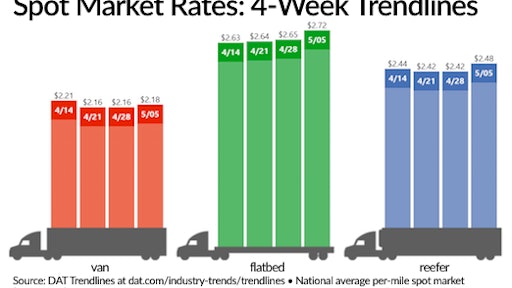 The number of spot market loads on the DAT network of load boards rose 1.3 percent during the week ending May 5. Truck posts also fell 1.0 percent, reflecting stronger shipper demand. National average rates for all three equipment types responded, moving higher compared to the previous week:
Van: $2.18/mile, up 2 cents week over week and 48 cents higher than a year ago.
Flatbed: $2.72/mile, up 7 cents. This is the highest flatbed rate ever recorded in DAT Trendlines.
Reefer: $2.48/mile, up 6 cents. This rate is 5 cents above the April average and 51 cents higher than one year ago.
Spot truckload freight availability during the month of April was 3.9 percent higher compared to March and 100 percent higher year over year. Available capacity was up 2.2 percent compared to March and 7.5 percent year over year.
VAN OVERVIEW: Van load posts increased 1 percent last week while van posts increased 3 percent. That caused the van load-to-truck ratio to gain 1 percent to 6.2 loads per truck. Key markets:
Los Angeles: $2.42/mile, up 7 cents on a 2.8 percent increase in volume.
Memphis: $2.67/mile, up 9 cents with a 3.3 percent volume increase.
Several van lanes showed higher rates:
Memphis to Columbus, Ohio: $2.76/mile, up 19 cents.
Atlanta to Philadelphia: $2.95/mile, up 14 cents.
Charlotte to Buffalo: $2.94/mile, up 17 cents.
FLATBED OVERVIEW: Nationally, the number of flatbed load posts was unchanged while truck posts declined 3 percent. The flatbed load-to-truck ratio increased 3 percent to 111 loads per truck, which ties the record set during the first week of April. The flatbed load-to-truck ratio has been above 100 loads per truck for six weeks in a row.
REEFER OVERVIEW: Reefer load posts increased 10 percent while truck posts declined 2 percent, which sent the national reefer load-to-truck ratio up 12 percent to 9.2 loads per truck. With produce harvests heating up, Los Angeles ($3.02/mile, up 11 cents), Miami ($3.06/mile, up 59 cents), and Lakeland, Fla ($2.43/mile, up 40 cents) were among major reefer markets with sizable gains in the average outbound rate.