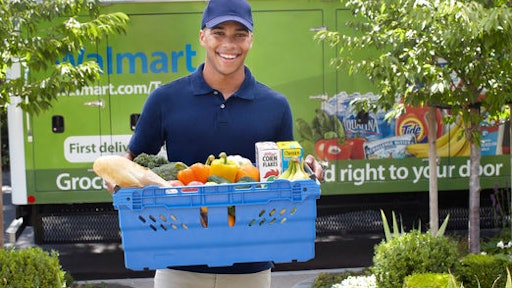 According to Reuters, Walmart has ended its online grocery delivery partnership with Uber and Lyft, potentially creating a setback for the retailer's goals to challenge Amazon.
The end of the partnerships undercuts a vision that Uber and Lyft had laid out: a service that can efficiently deliver anything on-demand with the touch of a smartphone app.
This also marks an abrupt end to a business relationship that Walmart and Uber announced two years ago. In March Walmart said Uber would be a partner in its plans to deliver groceries to 40 percent of the country, Reuters reports. Now, Walmart will utilize different services to the four areas that Uber once covered.
Uber put a stop to the grocery partnership when it informed Walmart in March that it would cease delivery operations on June 30. The retailer was Uber's largest partner for its 'Rush' service, which delivered groceries as well as clothes, flowers and other goods. Uber plans on closing its Rush service at the end of June to focus on UberEats.
Walmart representatives have said that ending the partnership with the ride-hail companies will not impact Walmart's plan to scale grocery delivery.
The partnership with Walmart marked the first time Uber committed to a business outside of its own.
Walmart has since added Deliv, Postmates and DoorDash as delivery partners. It is unclear if these companies are supposed to replace Uber in the various markets they served.
To read the full original article, please click here.