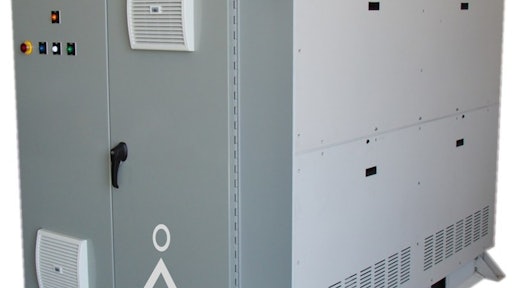 Bloomberg reports that Shell is investing $7.6 million in energy storage startup Axiom Energy to expand its service to grocery stores and cold-storage facilities.
Axiom's refrigeration battery freezes tanks of salt water at night when electricity costs are low and then provides cooling services during the day when power prices are higher. The company says that it can reduce energy demand by as much as 40 percent.
"Refrigeration systems, which account for more than nine percent of commercial energy consumption, must operate around the clock to keep the food cold. As electricity grids and prices become increasingly unstable, inflexible refrigerated facilities find themselves in a difficult position," says Amrit Robbins, CEO and co-founder of Axiom Exergy. "Utilities manage intermittent renewable generation and spiky electric vehicle charging loads through price signals to customers, and grocery stores are currently unable to respond to these price signals in a meaningful way. The Refrigeration Battery is the ideal solution to enable energy flexibility for the cold chain and it simultaneously helps enable more renewables on the grid. We're excited to find so many food retailers, investors, and electrical utilities that share our vision of transforming refrigeration systems into flexible, intelligent energy storage assets."
Axiom Exergy's Refrigeration Battery is installed in Walmart and Whole Foods.