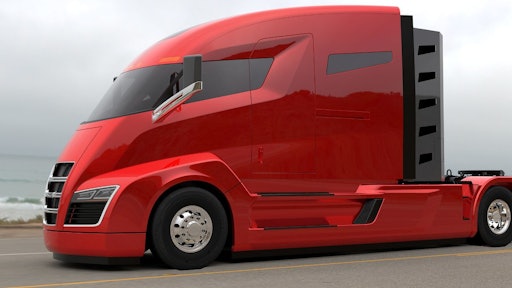 Anheuser-Busch plans to buy as many as 800 trucks from Nikola Motor Co, upping the 40 electric semi truck order that it placed with Tesla last December.
Nikola uses hydrogen fuel cells, and Tesla uses batteries in its powertrain technology. By using both companies, the vehicles that Anheuser-Busch purchases will generate no tailpipe pollutants.
Anheuser-Busch plans to convert its entire 800-vehicle company-owned fleet to vehicles that emit no pollution or greenhosue gases by 2025.
Companies like Nikola and Tesla have displaced traditional truck makers, shrinking the demand for heavy duty semi trucks. According to IHS Markit, only 249,952 big trucks were sold in the U.S. in 2016.
Even though electric trucks are more expensive upfront, makers must be able to prove that the total cost of ownership will be lower than for diesel-powered trucks.
Last year, Tesla announced plans to begin producing battery-powered semi trucks in 2019. Big named companies like Pepsi, Walmart and more put down deposits for the trucks.
However, Nikola's hydrogen system creates electricity by splitting hydrogen electrons from protons. Those particles are then combined with ambient air to create water as the waste product, the Los Angeles Times reports.
By working with Anheuser-Busch, Nikola plans to build 28 fueling stations along the company's heaviest routes. The stations will be usable by fuel-cell vehicles made by other companies as well.
To read the full original article, please click here.