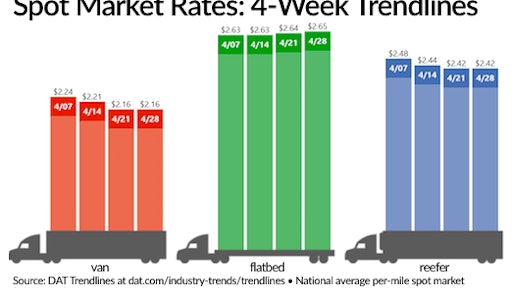 Spot market activity continued to build during the week ending April 28 as the number of loads on the DAT network of load boards increased 3.1 percent and truck posts rose 2.6 percent. National van and refrigerated load-to-truck ratios dipped while the flatbed load-to-truck ratio exceeded 100 for the fifth straight week.
Rates, however, showed little movement compared to the previous week:
Van: $2.16/mile, unchanged
Flatbed: $2.64/mile, up a penny
Reefer: $2.42/mile, unchanged
April spot truckload rates are all higher compared to March national averages. The average van rate is up 1 cent, the reefer rate is 2 cents higher, and the flatbed rate is up 12 cents. These rates include a surcharge portion that fluctuates with the price of fuel, which increased to a national average of $3.16/gallon last week.
VAN OVERVIEW: Van load posts declined 2 percent last week while truck posts increased 3 percent. That caused the van load-to-truck ratio to dip 5 percent to 6.1 loads per truck. Key markets:
Los Angeles: $2.35/mile, up just 1 cent on a 9.2 percent increase in volume
Seattle: $1.60/mile, up 3 cents with a 26.6 percent volume increase
Several bellwether van lanes reflected weaker rates:
Columbus, Ohio, to Buffalo: $3.78/mile, down 30 cents but still one of the highest paying lanes into the Northeast
Philadelphia to Boston: $3.95/mile, down 9 cents
Atlanta to Lakeland, Fla.: $3.02/mile, unchanged although the return was up 4 cents to $1.23/mile
FLATBED OVERVIEW: The spot flatbed market continued to surge as Cleveland, Las Vegas, Jacksonville, and Fort Worth joined Houston as volume leaders last week. Nationally, flatbed load posts increased 6 percent while truck posts increased less than 1 percent; the load-to-truck ratio to increase 6 percent to 108 loads per truck as a result. Markets to watch:
Memphis, $3.54/mile, up 16 cents
Fort Worth, $2.38/mile, up 9 cents
Houston, $3.03/mile, unchanged
Las Vegas, $2.89/mile, up 19 cents
REEFER OVERVIEW: Reefer load posts held steady while truck posts increased 2 percent. That caused the national load-to-truck ratio for reefers to decline 2 percent, from 8.4 to 8.2 loads per truck. Reefer volumes are beginning to build, however, especially in the Miami and Savannah markets.