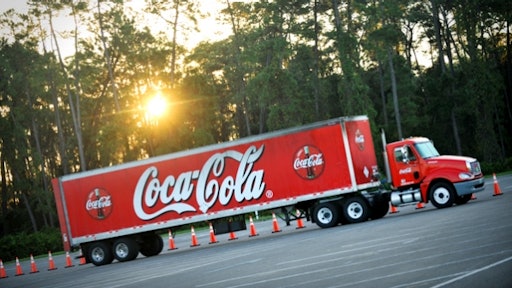 Around 600 drivers in the Philadelphia area are preparing to strike as soon as next week to preserve their pensions as tough negotiations with Coca-Cola's new regional affiliate continues a deadlock discussion over funding for their plans.
Local 830, whose members load, driver and deliver drinks from breweries and soda plants work for Liberty Coca-Cola Beverages, a company that buys Coke bottling and distribution in Philadelphia and New York.
Frank Keel, a spokesman for the union, says that the Teamsters walked away after Coke made it clear they were taking away their pension.
Although representatives of Liberty Coca-Cola have say that they are continuing to negotiate, the company has threatened to keep Coke and its other brands in stores if the union walks.
Liberty employees In New York are also Teamsters, however, the company is still funding their pensions.
Union leaders allege that executives have told them they have to cut costs due to the profit margin pressures from the city's beverage tax.
Local 830 members have given support a five-year contract with the local affiliate of Pepsi Co.
To read the full original article, please click here.