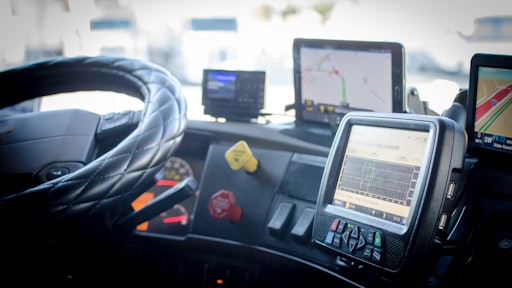 The U.S. driver shortage has increased the cost of freight to high amounts, but it is only going to get worse.
The electronic logging device mandate went into effect on April 1, causing drivers to record driving hours. The new ELDs prevent drivers from lying on their paper logs, helping them prevent from driving more than 11 hours a day. Trucks are likely to be parked when drivers hit their limits.
The ELD rules divided trucking companies. Larger companies adopted ELDs many years ago to ensure that they were in compliance, but smaller and independent drivers have resisted the change, saying that it was a burden.
ELDs are part of the rising why freight prices are rising. Driver shortage, surging demands and unpredictable weather have pushed spot rates up 28 percent this year according to Bloomberg.
Long term contract rates are expected to rise this year by 12 percent, according to FTR Transportation Intelligence.
The mandate went into effect in December, but enforcement didn't begin until April 1. The devices log driver hours can be checked by authorities during routine inspections or traffic stops. After 11 hours on the road, a driver must rest for 10 hours.
Roughly 70 percent of truckers who have started using ELDs have said that they've earned less money and 65 percent said they were forced to drive fewer miles, according to DAT. Analysts have estimating that regulations will reduce trucking capacity by 5 percent, making it harder for drivers to squeeze any extra miles.
To read the full original article, please click here.