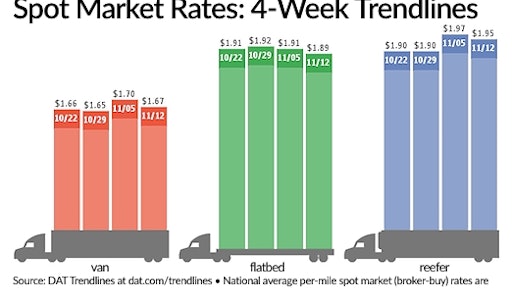 It was a week to give back some gains.

The number of available loads on the DAT network declined 1% during the week ending Nov. 12. With available capacity up 5% compared to the previous week, national average load-to-truck ratios weakened: the van ratio was down 3% to 2.7 available van loads per truck; the refrigerated load-to-truck ratio dropped 5% to 6.4.

As a national average, spot truckload rates remain solid but gave back some of the previous week's increases:

+ Vans: Down 3 cents to $1.67/mile
+ Reefers: Off 2 cents to $1.95/mile
+ Flatbeds: Down 2 cents to $1.89/mile

VAN TRENDS

The two strongest markets for spot van loads remain out West: Los Angeles and Ontario, Calif. Los Angeles-Phoenix paid the best average rate in the region at $2.77/mile, up 5 cents over the previous week.

Philadelphia saw the biggest average outbound rate increase thanks mostly to lanes to destinations in the Northeast. That includes Philadelphia-Boston, up 10 cents to $3.20/mile.

High van markets by region:

+ West: Los Angeles, $2.08/mile, unchanged
+ Midwest: Chicago, $2.09/mile, up 1 cent
+ South Central: Dallas, $1.50/mile, down 2 cents
+ Southeast: Memphis, $1.91/mile, up 1 cent
+ Northeast: Buffalo, N.Y., $1.93/mile, down 3 cents

REEFER TRENDS

The number of reefer load posts declined 1.5% while truck posts increased 3.4%. Produce had an off week with several markets experiencing a large fall-off in volumes.

One area that bucked the trend: Southern Idaho, where potatoes and onions are rolling out ahead of Thanksgiving. Twin Falls was the No. 1 market for reefer load posts last week, and the load-to-truck ratio there surged to 33.4 loads per truck.

With peak apple season over in Michigan, rates dropped on lanes out of Grand Rapids. Apples will continue moving from storage locations throughout the winter, a reason the lane from Grand Rapids to Madison bounced back up to $2.37/mile.

FLATBED TRENDS

Flatbed load posts declined 2% last week, and truck posts increased 2%. The average rate fell for the second straight week.

Rates are derived from DAT® RateView, which provides real-time reports on prevailing spot market and contract rates, as well as historical rate and capacity trends.

All reported rates include fuel surcharges. The average price of on-highway diesel dropped another 3 cents to $2.44/gallon.

For the latest spot market load availability and rate information, visit dat.com/trendlines, and join the conversation on Twitter with @LoadBoards.