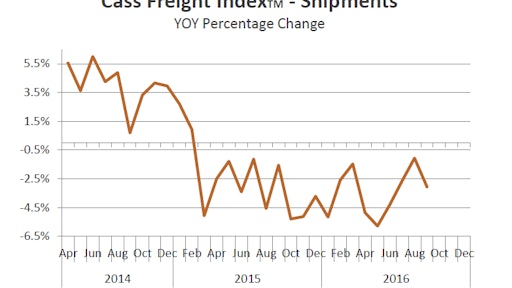 After offering what was called "less bad" results in August (only down 1.1% YoY and up 0.4% sequentially), the recently released Cass Freight Index shipments data in September is once again disappointing providing hindsight that August only gave us "false hope."
September data is once again signaling that overall shipment volumes (and pricing) continued to be weak in most modes, with increased levels of volatility as all levels of the supply chain (manufacturing, wholesale, retail) continue to try and work down inventory levels.
There have been a few areas of growth, mostly related to e-commerce, with lower levels of expansion being experienced in transit modes serving the auto and housing/construction industries. All of this added up to lower shipment volume in September on a YoY (Year-over-Year) basis, marking the 19th straight month of year-over-year decline. Bottom line, the Industrial Recession in the U.S. that began in March of 2015 continues to weigh on overall volumes.
What specifically drove September volumes? Rail volumes are part of the weakness. The Association of American Railroads (AAR) reported that September YoY (year-over-year) overall traffic for U.S. Class 1 railroads declined, as intermodal units fell 4.5% and commodity carloads originated fell 3.5%. Rails have seen persistent weakness, with overall volumes being negative 86 out of the last 87 weeks.
To read the Cass Freight Index, click here.
Companies in this article