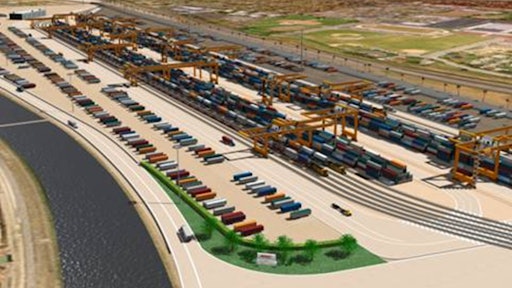 Seeking to salvage a $500 million rail yard project, the city of Los Angeles and BNSF Railway on Tuesday filed an appeal of a court decision that halted the controversial project near a low-income community, according to the Press-Telegram in Long Beach, Calif.
The appeal could mean years of legal wrangling for the Southern California International Gateway, a project nearly a decade in the planning and opposed by the community, the city of Long Beach, its schools and several environmental groups.
In the latest twist of what has been a three-year-long legal battle, the city of Los Angeles and BNSF Railway rejected a Contra Costa judge's finding that the city failed to adequately analyze the environmental impacts the rail yard would have on the West Long Beach community, as required by state law. In that final judgement, Judge Barry P. Goode ordered the city of Los Angeles to set aside its environmental analysis needed to move forward, along with the 50-year lease of the proposed 185-acre rail yard.
BNSF's lawyer Roger Nober said the company made the decision to appeal out of worry the judgement could set a precedent that would affect the development of future facilities or port projects. He said unless the ruling was reversed, "building SCIG is less likely."
Sold as a quicker and cleaner way to move millions of cargo containers from the port to trains and into the heartland of the United States, BSNF Railway and the city of Los Angeles said the project would create hundreds of jobs, support zero-emission technology and include sound walls and landscaping. Company officials said they planned to spend $100 million on green technologies such as electric cranes and low-emission locomotives.
To read more, click here.
Editor's Insight: It is encouraging to see BNSF choose to fight for the project; back in April, the railway said it was considering scrapping the project on account of the judge's ruling. The Los Angeles Times noted at the time that the California Environmental Quality Act has been used to thwart economic growth and actually harm the environment.
In the 11 years since the project was introduced, the switching yard proposal has been subjected to numerous public hearings and has been approved by the Los Angeles Board of Harbor Commissioners and the City Council. Hopefully, the appeal will bring a solution that will benefit the yard project and the local environment. 8-3-16 By Elliot Maras