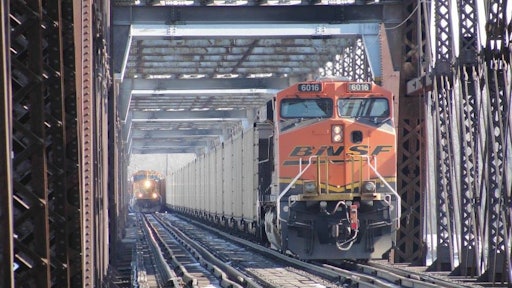 BNSF said it may cancel plans to build a new intermodal rail facility near the ports of Los Angeles and Long Beach following a California judge's recent ruling that found fault with the proposed project's environmental review process, according to Progressive Railroading.
After reviewing California Superior Court Judge Barry Goode's ruling, BNSF officials are "troubled by what the decision represents and uncertain whether moving forward with the project is feasible at this time," said BNSF Executive Vice President and Chief Marketing Officer Steve Bobb in a press release.

"We will confer with Port of Los Angeles officials, but it is not clear whether or how the project could be built under the framework set by the decision," Bobb said.

The Class I has spent more than 10 years working to advance the $500 million "Southern California International Gateway" project, which BNSF and port officials have said would greatly improve the region's air quality, create jobs and reduce truck traffic on local roadways.

The judge's ruling was in response to lawsuits filed against the project over concerns that it would have a harmful impact on the environment.

"With this decision, California sends a clear signal to companies interested in investing in the state that their business isn't welcome, regardless of how green it will be or how it will support the regional and state economy," said Bobb. "It sets a chilling precedent for not only the rail industry, but the entire goods movement sector, which employs more than a million Californians."
To read more, click here.
Companies in this article