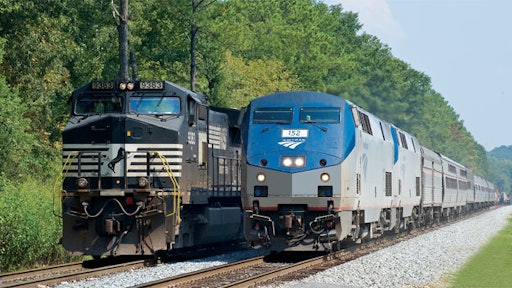 The Safety Transportation Board (STB) announced Thursday it has reconsidered a proposal that would have allowed railroads to prioritize freight trains over passenger systems such as Amtrak, according to The Hill. The panel originally argued that the policy change could boost the efficiency of the nation's overall rail system and said the mandate to prioritize passenger trains was not spelled out in federal law.
The statute was established in the 1970s when Amtrak was created to relieve freight railroads of money-losing passenger services.
But the surface transportation board ultimately concluded Thursday that current law does say that passenger trains are to be given preference over freight trains on shared tracks.
Amtrak argued that if the policy change had been implemented, long-distance and commuter trains would have seen a substantial increase in delays, since nearly 97 percent of the passenger railroad's route miles operate on host railroad tracks that are not owned by Amtrak.
Freight rail companies, however, said the effort would have allowed railways to determine the priority of trains on a case-by-case basis.
To read more, click here.
Editor's Insight: These are difficult times for freight rail, and having to allow passenger rail to take priority over freight doesn't make things any easier. The fallout in the oil industry has decimated rail demand, as has the slowing export industry.
The situation is good for shippers, however, as intermodal rates have posted big declines this year and are at the lowest level in the past three years, according to the Cass Intermodal Index. 7-29-16 By Elliot Maras