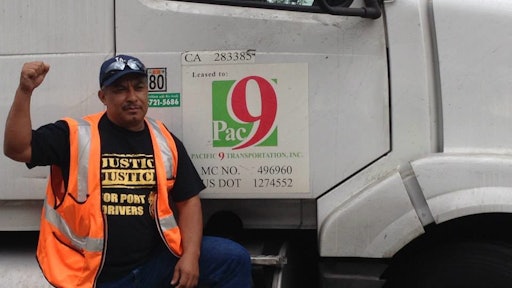 Pacific 9 Transportation, a trucking company that works at California's teeming ports of Los Angeles and Long Beach has filed for bankruptcy protection, facing a demand to pay nearly $7 million to its truck drivers over a labor dispute, according to The Wall Street Journal.
Pacific 9 Transportation's bankruptcy filing on Tuesday halts collection attempts from drivers who have fought for back pay, arguing the Carson, Calif., company improperly classified them as independent contractors instead of employees.
Last month, a judge finalized the payment award amounts, which vary for each driver. Pacific 9 Transportation's bankruptcy-court records show one driver in Inglewood, Calif., is owed $186,304.26, while another from Rialto, Calif., could collect $336,999.11.
The 75-worker company will continue to operate during the case, which will give the company time to figure out a debt repayment plan, said Pacific 9 Transportation lawyer Vanessa Haberbush.
Pacific 9 Transportation has become the latest trucking company to turn to bankruptcy proceedings after a wage-claim battle before the California Labor Commissioner.
To read more, click here.