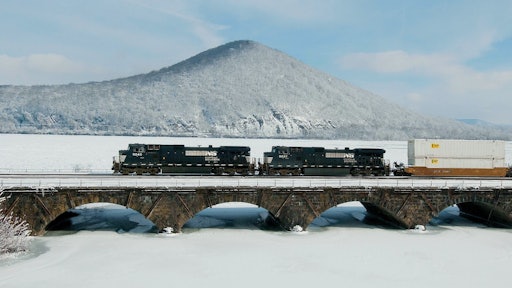 Norfolk Southern Corp. urged employees to vote down Canadian Pacific Railway Ltd.'s effort to enlist shareholders to press the board for friendly merger talks at its annual meeting, which it scheduled for May 12, according to The Wall Street Journal.
In a letter to employees the company made public in a securities filing Tuesday, Norfolk Southern Chief Executive Jim Squires said that the company is making good progress on its restructuring plans and that employees should vote no on merger talks.
Separately, in the company's proxy filed late Monday, the railroad's board said it would be willing to start merger discussions if Canadian Pacific "indicates a willingness to meaningfully increase the value represented by its proposal," and if the U.S. Surface Transportation Board were to indicate that it would be willing to approve an interim trust structure that would operate during a lengthy regulatory review.
Canadian Pacific has sought an order from the board declaring that the proposed structure is valid.
Canadian Pacific "has consistently stated that we are open to discussing all terms of a potential deal, including price, but we can't negotiate with ourselves, " said the railroad's chief executive, Hunter Harrison, in a release. "Given we have also asked the Surface Transportation Board for a declaratory order on the voting trust model, we were pleased to hear that Norfolk Southern may now be willing to engage in direct face-to-face discussions."
For more, click here.