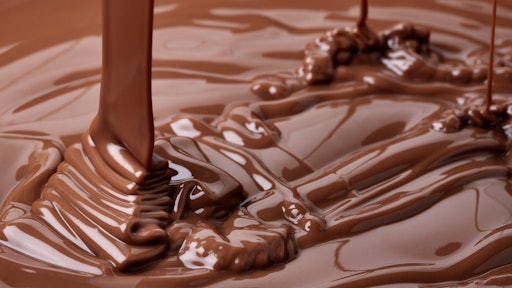 The rise of online shopping has put chocolate makers in a sticky situation, according to The Wall Street Journal.
Chocolate often melts during shipping in the summer months and in warmer climes, or arrives covered in "bloom," a white film that coats the chocolate when sugar or fat rises to the surface.
Companies like Hershey Co. and Mars Inc. typically hire refrigerated trucks to ship pallets of their products to stores. But when a customer places an order online—a fast-growing segment of the market—shipping costs can skyrocket. Such orders usually surge around holidays like Valentine's Day, Christmas and Easter.
Keeping a small shipment of chocolate cool can cost more than the product itself. Hershey charges $6.95 to ship a $4.25 bag of Kisses ordered on its website. In a notice on the site, the Pennsylvania-based maker of Kit Kat and Reese's also "strongly suggests" that customers buy liquid ice packs and a foam cooler for an additional $4.99. That, plus the recommended expedited shipping, would bring the cost to $20.20, before taxes.
As they come under increasing pressure to offer direct online ordering, chocolate makers have yet to figure out how to control online shipping costs. That can alienate customers who are used to free shipping on many small online purchases. It doesn't help that FedEx Corp. and United Parcel Service Inc. have introduced new shipping rates that charge extra for bulky packages, making it more costly to encase a small amount of chocolate in a foam cooler stuffed with liquid ice packs.
"Every consumer-goods manufacturer is trying to figure out how to do direct shipping so they can say…they're an alternative" to Amazon.com, said Bobby Miller, a partner at Ortec International, a consulting firm and supply-chain software designer whose clients include Hershey and Ferrero Rocher, maker Ferrero U.S.A. Inc.
To read more, click here.